Review: Prego
Okay, first photo-less review to be imported. This is one of the earlier ones, so forgive me if it's not exactly comprehensive. I can never remember if it's supposed to be
Prego
,
Prego's
or
Pregos'
.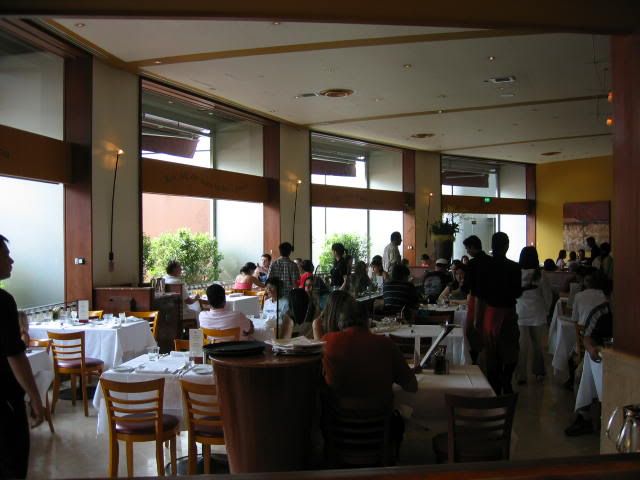 Anyway, Prego is conveniently located in Raffles City, and has been providing Italian food to the office folk for a long time. They're a fairly big establishment, and boast a popular antipasti bar new, big-ass buffet selection.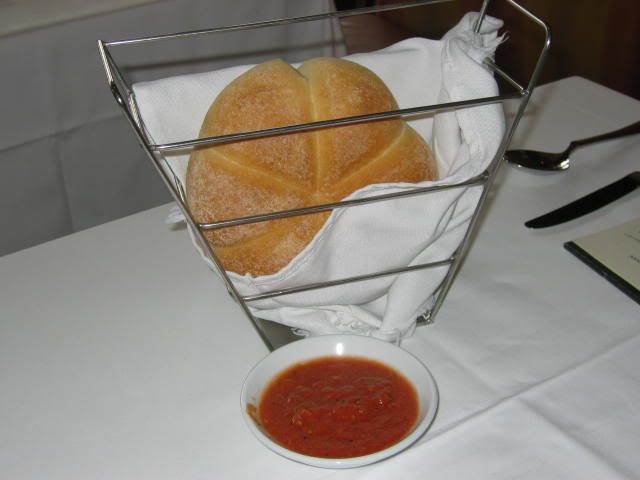 Before the meal starts, Prego gives you a round loaf of bread which can be shared among three people easily. I don't know where they get it or if they bake it themselves, but it's one of the best restaurant breads around. Light and fluffy with just a hint of olive oil, this bread is a pleasure to eat with the dips they serve it with (sometimes olive oil, sometimes a tomato pesto; but usually too small a portion).
The buffet from the antipasti bar is generally quite good (4/5), with old favourites like proscuitto and melon, salami, cheese and bruschetta featuring. If you're looking to have a light lunch, the antipasti buffet is probably a good choice, and at $17, it's not too pricey. For a slightly more substantial dinner, $25 will see you through the antipasti buffet and a small pizza or pasta.
I had a spaghetti alle vongole ($22), which I found to be too salty (3.5/5).
Update
: It seems Prego's food has deteriorated somewhat. When I had the vongole again a while back, the dish was really shoddily cooked. The clams came out of a can, which gave them a very unappetisingly shredded look. That meal was understandably disappointing.
You can expect to pay about $60 for a four-course meal from the a la carte menu, or $70 if you're ordering fish/meat instead of pasta. Pretty much what you'd expect from a joint like this.
You can't really ask for a better location - since all trains lead to Raffles City, you'll get there eventually. A good place for dinner if you're on your way to the Esplanade or have plans anywhere in the area. You can even do some shopping to work off all the calories you've just deposited.
The service is pretty sufficient. I gave it a 5 the last time, but that was quite long ago and I was probably being generous. As a matter of fact I recall a somewhat over-defensive staff member during one of our meals there. A 3.5 - 4 would probably be more realistic.
[See Edit]
In terms of ambience, Prego's got a good range. It has ample space to cater to either dinner gatherings or cosy lunches. I believe the bread is freshly baked and quite excellent, and the aroma of the bread and food work quite well to make the restaurant seem rather homely and inviting.
Prego (Italian)
Raffles the Plaza, Level 1
Tel: 6431 6156
Location: 5/5
Service: 3/5
Ambience: 4/5
Food: 3/5
Overall: Probably a safe, if pricey, bet[Edit: I went there for dinner on Saturday (10/09/2005), and discovered that Prego has really gone downhill.]
Service was really atrocious. It was a good ten minutes before our water glasses were filled, and the waiters seemed to consistently ignore our table, because it took a while for us to place our orders too. A request for the food to come quickly because we were in a hurry returned the rather lackadaisical response of "I can't promise you". And people think service standards are low because of the customers. Rubbish.
As for the food, my rigatone with bolognese wasn't bad, but I have a nagging suspicion that it left me with mild food poisoning, because I've had stomach cramps and the runs since Sunday morning. That, of course, is the death knell of any restaurant.
[Edit 2: It appears Prego has reinvented itself, making my last edit somewhat inaccurate. Prego has not, in fact, had a death knell toll for it; if anything, it seems to be doing a roaring business - the restaurant was almost full at 1pm on Sunday (15/01/2006).]
Part of the reason may be the new buffet Prego offers. For $40, you get a huge amount of food.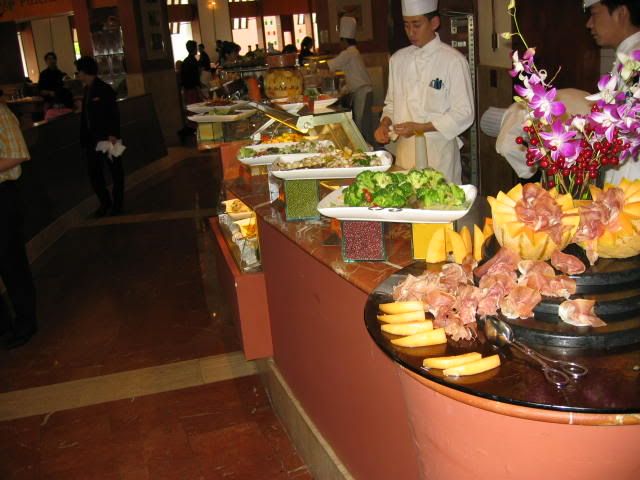 The popular antipasto bar is now part of the buffet, offering traditional favourites like parma ham with melon and tomato caprese.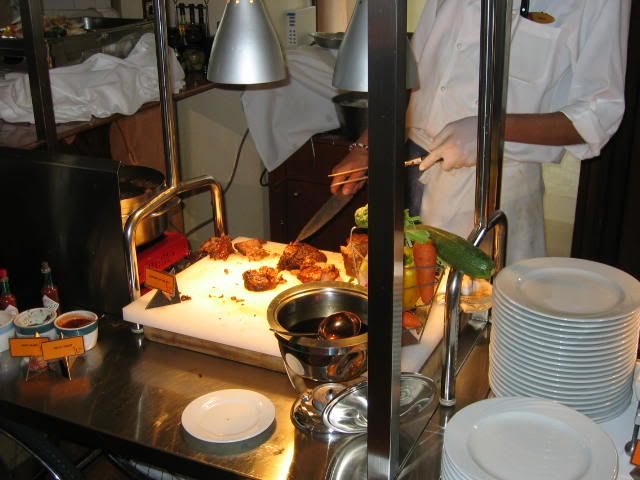 There is a new meat station, where a dedicated chef waits to carve you pieces of meat from his roast.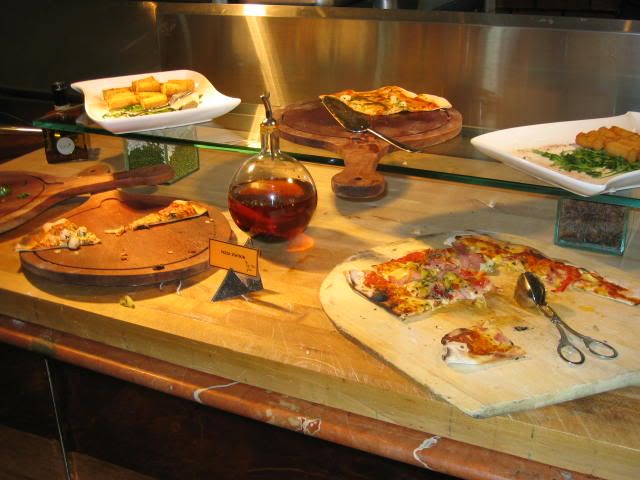 A pizza station, which I'm always wary of, since there are never any facilities to keep the pizzas warm, and the pizzas would lose their crispiness anyway.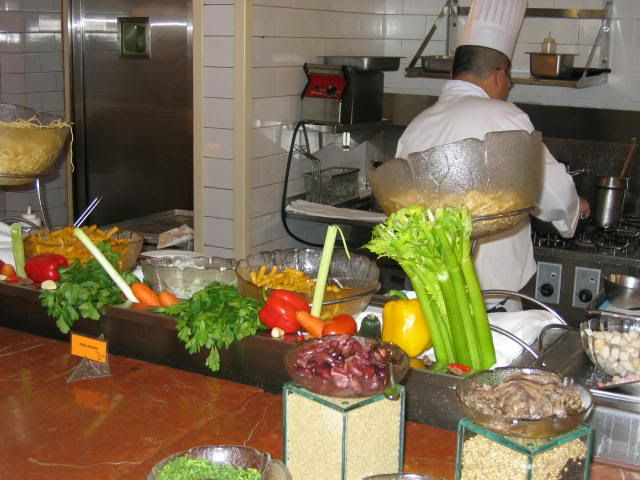 A pasta station as well, where all your pastas are cooked to order.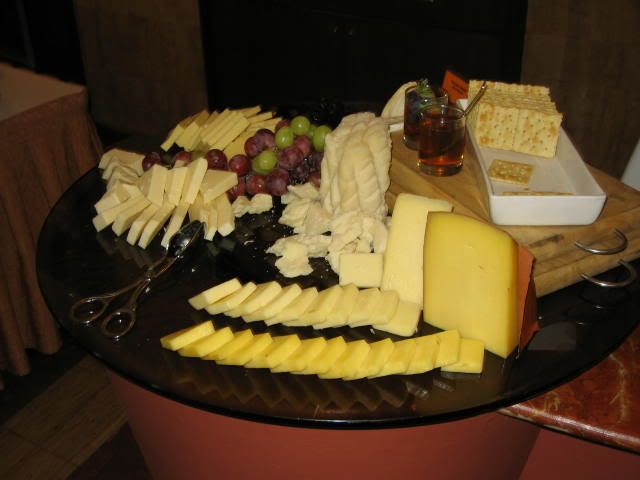 There was even a cheese station with an assortment of cheeses, which I thought was pretty impressive.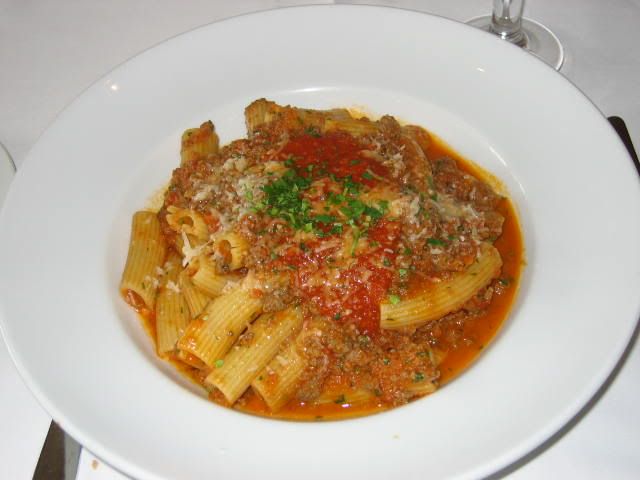 I did not, however, try the buffet, so I can't tell you if it was any good. Instead, I had the rigatone with bolognese again, mainly because I forgot that it might have been the cause of my previous upset stomach. This time around though, I had almost no complaints. The rigatone was al dente, the bolognese sauce was rich and meaty, but a little too wet. I would have preferred my sauce to have been a little less liquid, a little more full-bodied.
I was quite pleased with our most recent trip to Prego, as this grand old dame of Italian cuisine occupies a fond spot in my heart, and I was getting very disturbed by what I thought was an incurable downward spiral, first into mediocrity, and thence into dreadfulness, but thankfully this trend appears to have been arrested, and reversed.
Technorati Tags: Restaurant Reviews, Italian Food, Prego, Singapore