Review: CafeBiz
We were supposed to go to the Chocolate Buffet at the Esplanade on Friday, since none of us had ever been there and we were all craving chocolate (at least, I was), but unfortunately it turned out to be fully booked. So resourceful Keith managed to find us a reservation at CafeBiz at Traders' Hotel, where apparently they have a chocolate fountain, in addition to a buffet dinner ($42).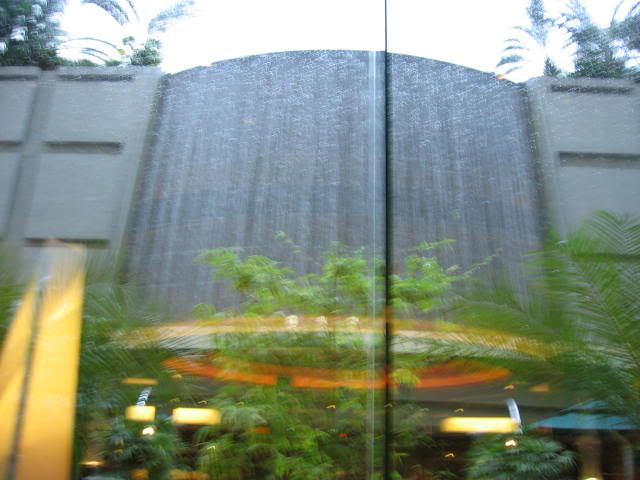 CafeBiz is a pretty relaxing place to eat, especially if you get to sit next to the waterfall. The layout is like most buffets; with different stations serving different types of food, from Chinese to Western. Lighting and arrangement is used to good effect though, everything looks very ergonomic, even the palette-shaped plates that are cunningly hidden beneath the stations.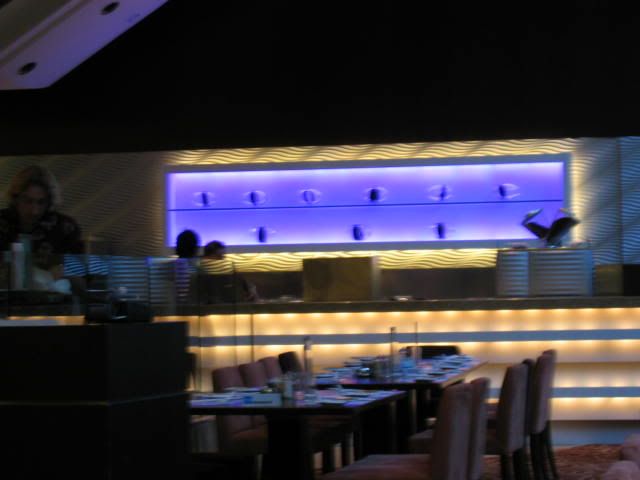 Talk about ambience. The funky violet light behind the bar counter changes colour ever few minutes. Good thing the light's pretty muted, so the effect works well, else the place'd look like a disco.
I'm too lazy to blog about each counter in detail, so I'll just be posting pictures with short commentaries.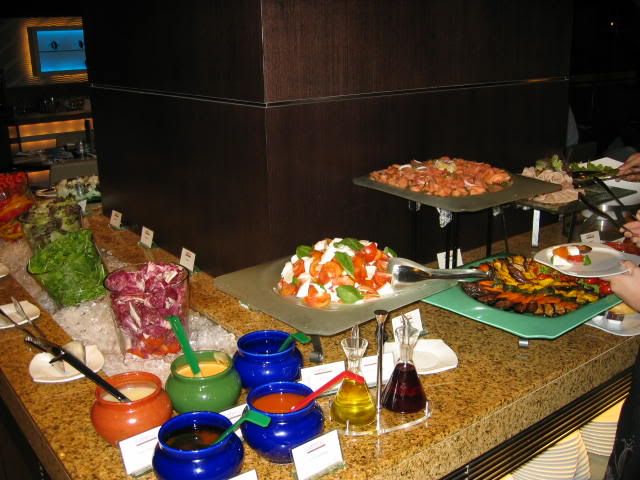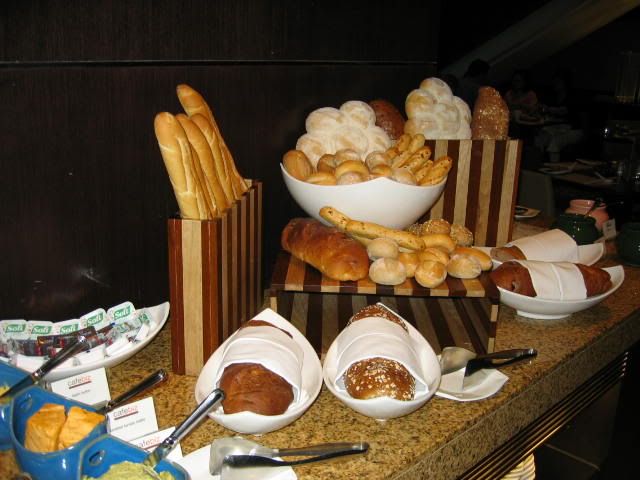 The salads and breads are placed together in one bar. There wasn't much I really liked here, as I'm not much of a salad person. I did try the tomato and mozarella salad, but that didn't really do it for me.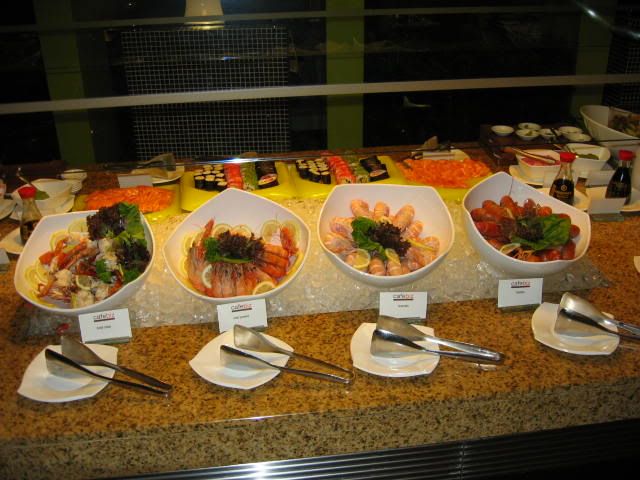 And here we see the sushi and crustacean bar. Funnily enough, I'm not a sushi or crustacean fan either, so the only thing I had from here was the California Maki, which Keith scoffed at.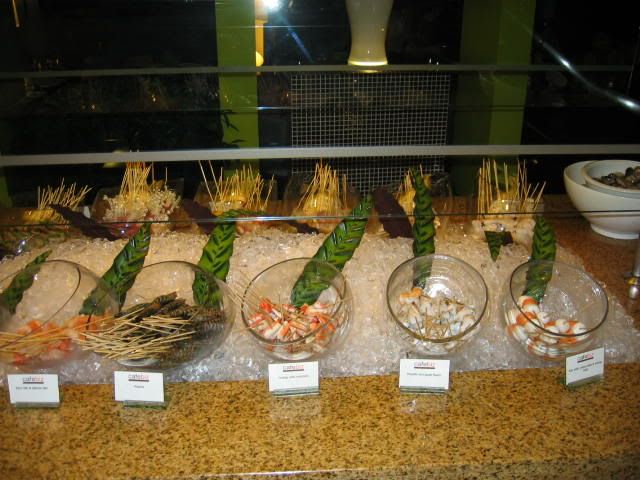 Now this was undoubtedly the oddest station in the buffet. Initially I thought it was a satay bar, but it turned out to be lots of raw food skewered together. What the hell, I thought. This must violate at least five AVA regulations right there.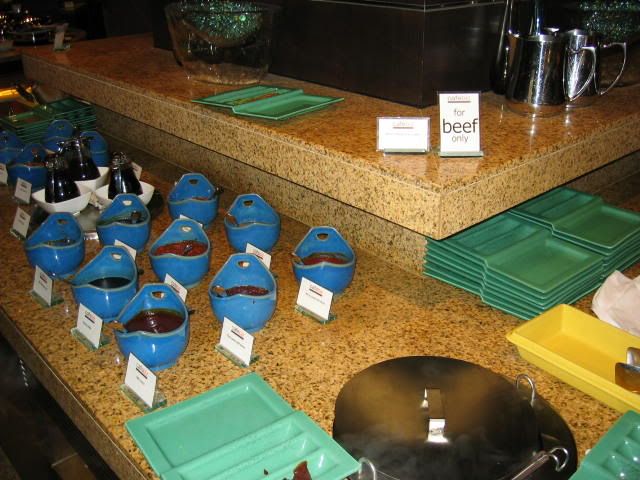 As it turns out, right next door was this station with lots of vats of boiling water, for the sole purpose of boiling the bejeezus out of your skewered meats. So basically, your meat goes from this: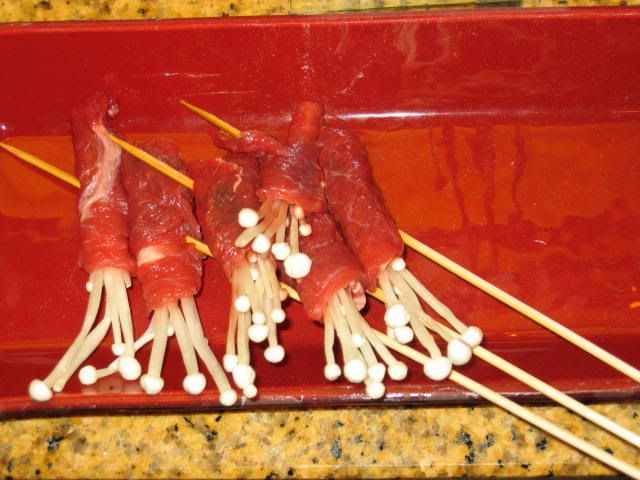 To this: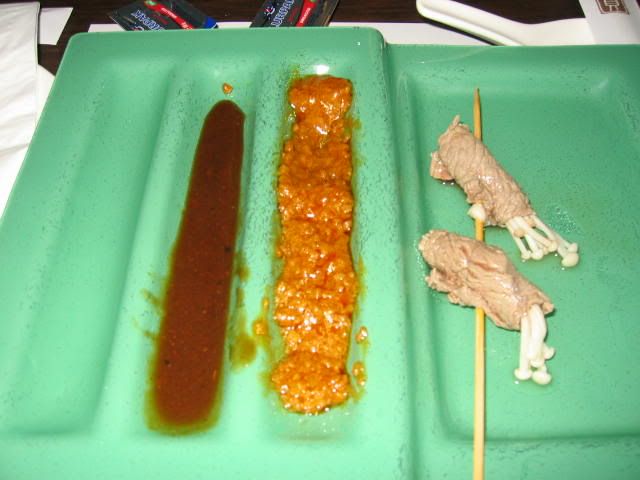 Unfortunately, this steamboat method does seem to result in rather bland food. Even the sauces they provided didn't do much to improve the taste. Strangely enough they give you satay sauce even though there aren't any satays.
It's beginning to sound like there isn't much that's good to eat, which is unfortunately the case at most buffets. CafeBiz has spread itself too thinly, and most of the food has stayed out for too long, leaving them somewhat less than fresh.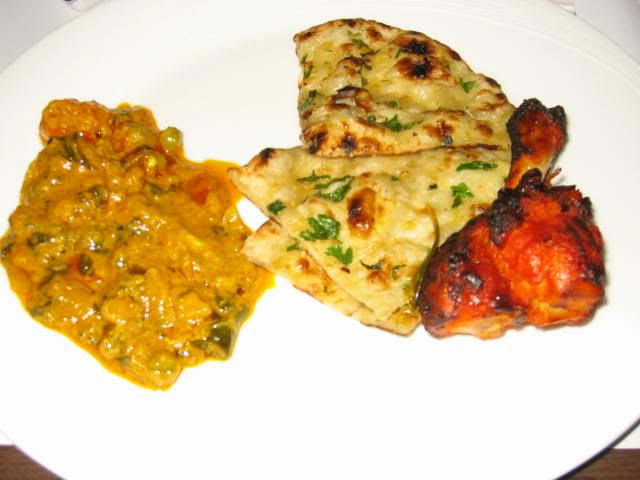 What was good was the Indian food. The garlic naan, vegetable dhal and tandoori chicken were pretty wholesome, and prepared on the spot, which certainly helped, but in entirely too small portions.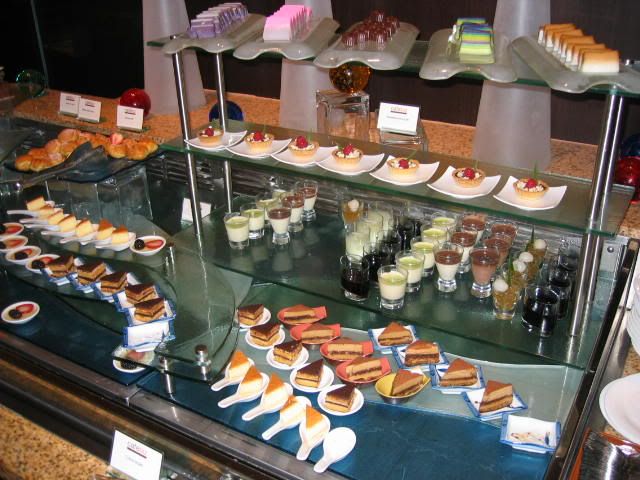 What really took the cake, pun intended, was the dessert bar. Not only was the presentation fantastic (just look at all those petit fours on those chinese spoons!), some of the stuff was really very good. The mousses, in particular, were delectable. The white chocolate mousse was absolutely smashing, and I'm definitely making it my dessert when I next cook.
The chocolate fountain was pretty good as well, but somewhat wasted on the cheap fruits they served. It's surprising how much difference an unripe strawberry makes to chocolate.
In terms of location, Trader's Hotel is right on the outskirts of Orchard Road, so there shouldn't be any problems getting there.
Service doesn't really come into play, since it is, after all, a buffet.
CafeBiz (Buffet)
1A Cuscaden Road
Tel: 6381 4374
Website
Location: 4/5
Service: 3/5
Ambience: 4.5/5
Food: 2.5/5
Overall: It's a buffet, after all
Technorati Tags: Restaurant Reviews, CafeBiz, Buffet, Singapore