Review: Menotti
Last night, in an inspired fit of brilliance, I accidentally permanently deleted the photos of the lunch I had in Menotti that I had uploaded from my camera. While I was uploading them I also deleted from my camera, which means I have no pictures from Menotti to accompany my post. You, my adoring masses, shall just have to use your imagination.
[Ed: I went back recently armed with my camera, allowing me to take some photos without deleting them this time around.]
I'd heard of Menotti from Keith, who told me about a charming Italian cafe in Raffles City run by the same people who run Garibaldi (Menotti is in fact, Garibaldi's son), which served very affordable set lunches and dinners.
Not really knowing if the food was good, I searched for other reviews of Menotti, and lo and behold, who do I find has already reviewed the place but the delightful
Cheryl
of
She Bakes and She Cooks
. With her endorsement, I was pretty confident that the place would turn out to be good.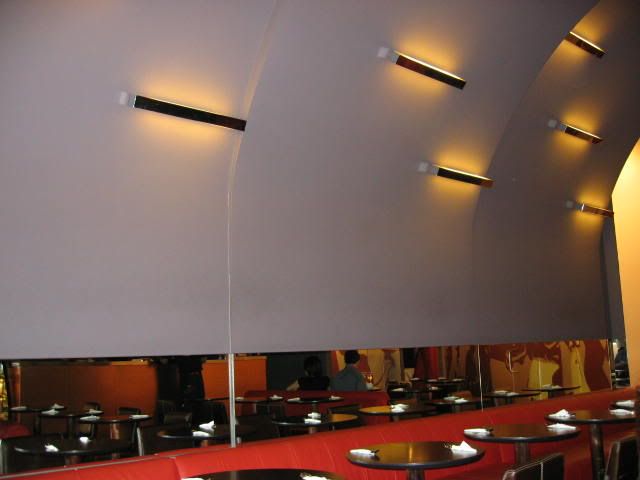 Menotti is situated by the boardwalk, opposite the Raffles Hotel, so there's an excellent view if you sit by the window. The ambience is slick, looking almost like the Starship Enterprise. This seems to appeal to all the office types, as Menotti fills up quickly, so go early for lunch if you can.
Service is sufficient, if a little inconsistent. I don't really like the fact that the place charges for water, which I think is in poor taste. Food arrives promptly though, which is always a good thing for you busy people out there.
I really enjoyed their classic Italian hot chocolate ($6.50) which is melted chocolate in a mug, into which you pour heated milk in desired quantities. The feeling of drinking rich chocolate adulterated only by milk is quite extraordinary, and you can well imagine why chocolate is the panacea in the Harry Potter books.
Menotti serves fairly casual pastas and bistro-ish food, but none of which seemed very spectacular to me. In the end I settled for a lasagna ($15), which came with a generous helping of cheese, and was very filling.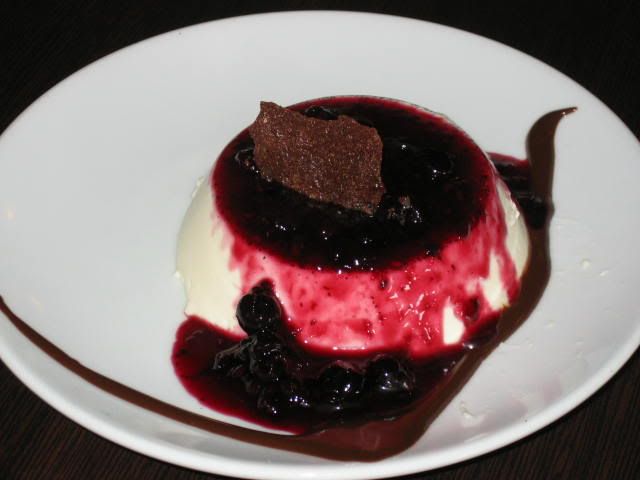 Dessert was supposed to have been panna cotta, as I'm still searching for the perfect panna cotta in Singapore.
[Ed: Menotti's offering wasn't that fantastic; a little too much gelatin which made it a little too dense, and the raspberry compote was very tart.]
Unfortunately, they had run out, so I had to settle for a "Morbida" Chocolate Mousse ($7), which despite the unsettling name, was actually pretty good. However, it was a bit too dense for my tastes, and as I was pressed for time, I didn't manage to finish it.
While Menotti's set lunch and dinner are extremely reasonably priced at $20 and $30, there isn't much to choose from, as they exclude an appetiser course, and the mains are rather selective.
Menotti (Italian, casual)
252 North Bridge Road
#01-17
Raffles City Shopping Centre
Tel: 6333-9366
Location: 4.5/5
Ambience: 4/5
Service: 3/5
Food: 3.5/5
Overall: Great place for a quick business lunch or post-shopping drink
Technorati Tags: Reviews, Casual, Italian Food, Menotti, Singapore