Review: Buko Nero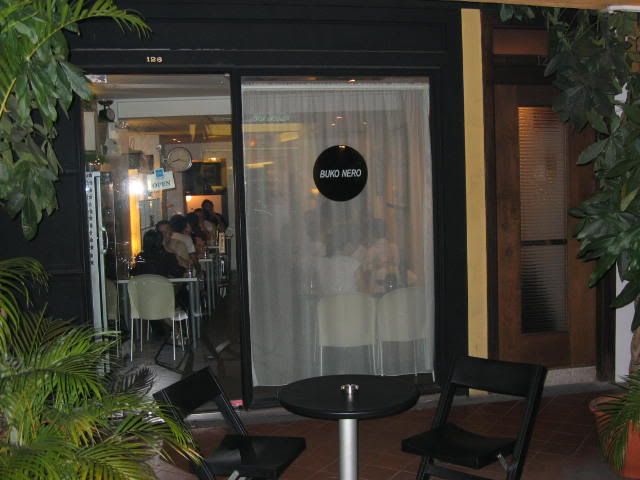 Buko Nero is a tiny (and I do mean tiny) Italian-fusion restaurant nestled away in the Tanjong Pagar area. The name itself is a play on the Italian "buco nero" or "black hole", though I'm not entirely sure why it's spelt with a K.
The restaurant can only accommodate 20 people, and reservations are a must as the place is almost always fully packed. In the time we were there, every single table was occupied, and they even had customers coming in at 9pm. In fact, I hear most times reservations have to be made a month or more in advance.
So what explains the restaurant's popularity? Not its location, certainly. Not its ambience, either, for while the place is charming and cosy but with enough stylish sleekness with its modern eclectics, I don't see people going there to admire the design. The only explanation then, has to be the food.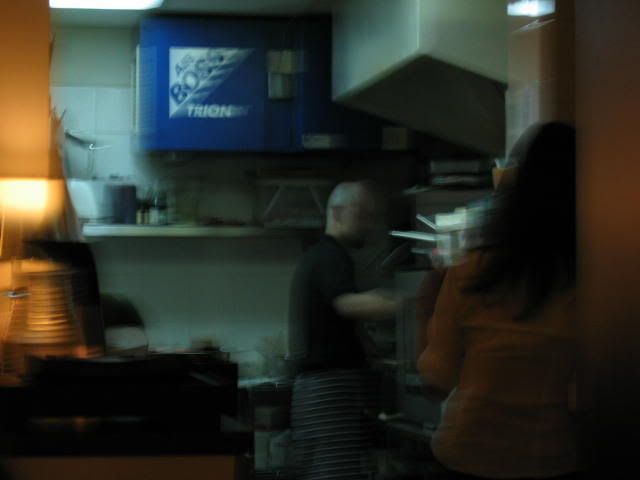 What was pretty amazing is that all the food is prepared in this small kitchen, manned by only the chef-owner, Oscar. Just goes to show that it's not difficult to cook for 20 with the right equipment and preparation. The entire restaurant is staffed by only three people; Oscar, his wife Tracy, and a lady I assume is Oscar's mother. This makes service very personable, as you are constantly attended to by one of the ladies, who are more efficient than most poorly-trained waitstaff. The great thing about Buko Nero is the set dinner, which is affordably priced at $35 for five items, but unfortunately nothing I saw on the set menu made me interested enough to order it.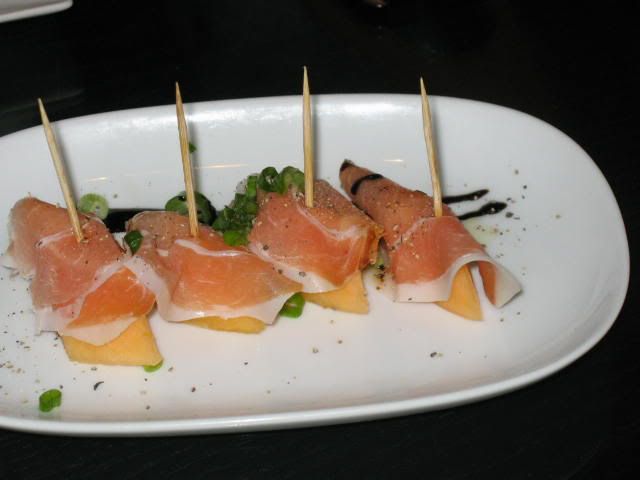 Our meal began with a complimentary amuse-bouche, basically an updated version of the traditionally Prosciutto e Melon, dressed with spring onions and a brush of sweet balsamico. Nice.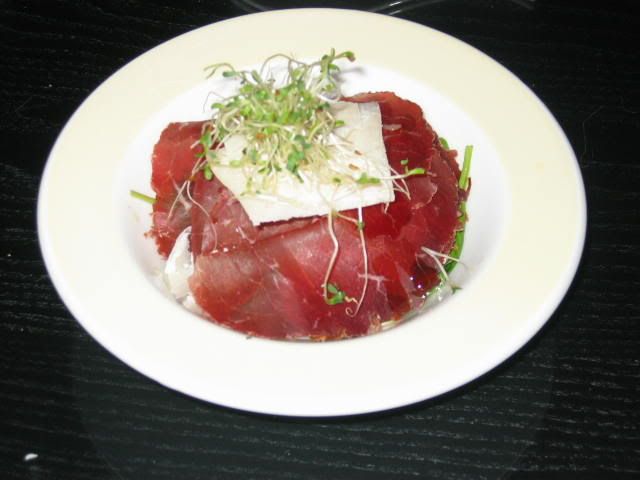 My sister ordered a portion of the bresaolo and mozzarella salad. I quite liked this combination, the slight saltiness of the cured meat and buffalo cheese giving flavour to the otherwise uncharacteristic vegetables.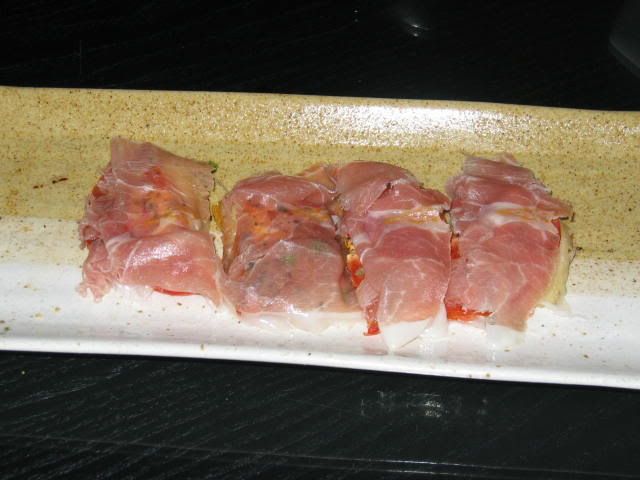 Next we had some tomato and mozzarella crostinis, topped with prosciutto and kaiware (daikon sprouts). These little suckers pack quite a punch, owing to the fact that they're laced with truffle oil. Great as one-bite morsels, these shouldn't be too difficult to replicate as canapes at home with the right ingredients.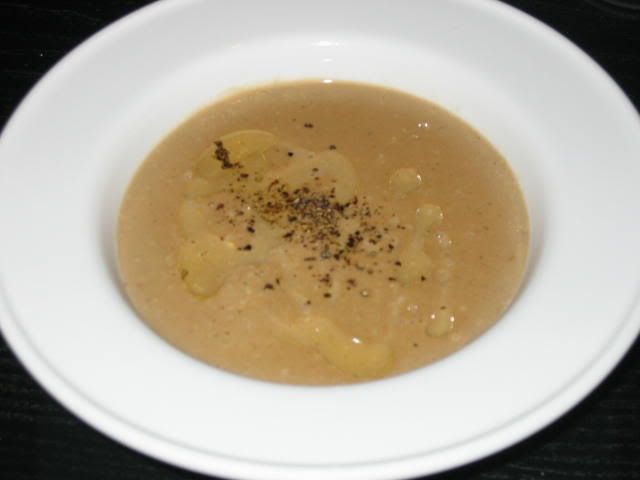 My real starter was a porcini mushroom soup ($9.50), laced with a generous dash of truffle oil. I would think that a soup made from porcini mushrooms would be prohibitively expensive, but either the chef knows a way to extract a maximum of flavour from his mushrooms, or the porcinis have been mixed with regular funghi. Either way, the soup wasn't more expensive than others you'll find, but it was much more intensely aromatic, with notes of porcini and mushroom melding well to give a really thick and heady soup.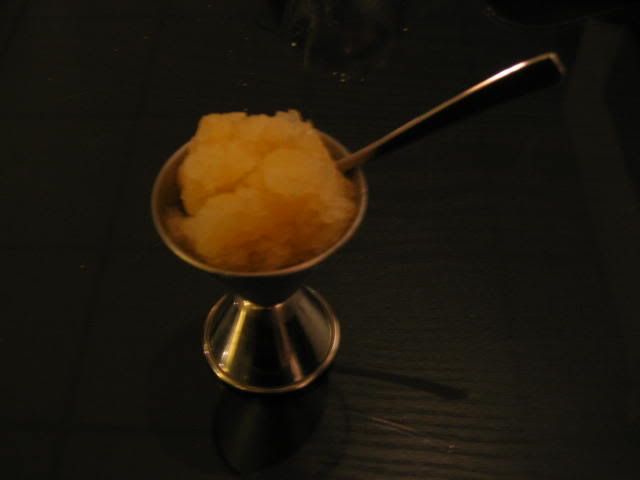 The chef kindly provided all four of us with a citrus sorbet palate-cleanser even though it was an item on the set menu. I'm not a great fan of palate-cleansers, and this didn't really work for me. I assume the citrus fruit used was grapefruit or blood orange, and I'm not very fond of the bitter aftertaste of these fruits.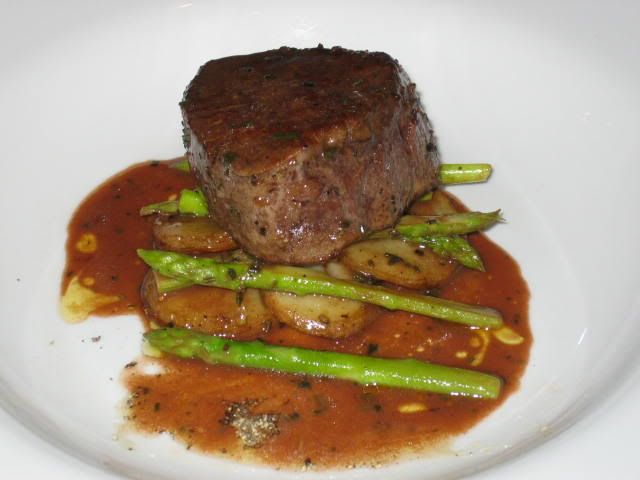 My obligatory meat course: pan-fried beef tenderloin with potatoes and asparagus ($28). This was pretty good, even with the mundane vegetables. I was quite intrigued by the sauce, which contained some ingredients I found hard to place. The fist taste was sweet, almost syrupy so, which then faded to tartness that played on the tip of your tongue.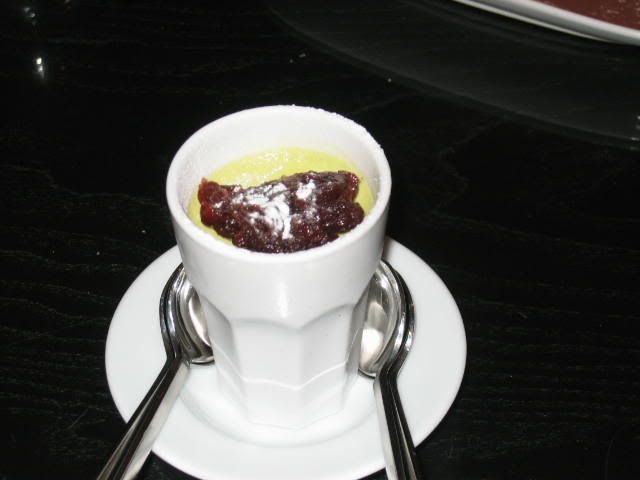 My sister ordered a Green Tea Panna Cotta, topped with azuki beans, which I decided to try, and found to be fairly interesting; the green tea flavouring was mild and subtle, though the panna cotta's consistency was a bit thick.
While Buko Nero has much to recommend it, I find there are a number of factors that would make me reconsider a return visit. First, its location. Tanjong Pagar is one of the most dreadful places to come for dinner, especially if you drive, because parking is always a problem. Even if you don't drive, I have no idea where the restaurant is in relation to the MRT. In addition, the nightlife of the area leaves plenty to be desired, as it is packed full of nightclubs and KTV joints. Second, having to make a reservation a month in advance is very off-putting, because even though the food was good, I don't think it can claim to be El Bulli or The Fat Duck calibre. Lastly, a la carte dishes are not particularly cheap, further reducing incentive to make advance bookings.
Buko Nero (Italian fusion)
126 Tanjong Pagar Road
Tel: 6324 6225
Closed on Sundays
Location: 1.5/5
Ambience: 3/5 (questionable environs)
Service: 4/5
Food: 4/5
Overall: Probably one of the better fusion restaurants around, if you can stand the wait.