Review: Din Tai Fung
Hot on the heels of
one
xiao long bao place comes a review of another one.
In the small, secretive and ruthless world of budget xiao long baos in Singapore, Din Tai Fung and Crystal Jade are locked in eternal combat, rather like McDonalds and Burger King, or Coffee Bean and Starbucks. Going to either and
not
ordering some xiao long baos is like a two-headed hippopotamus: unheard of.
Din Tai Fung started in Taiwan, but like many successful Chinese restaurants, now has a number of outlets throughout Asia, especially in Singapore. Recently, their latest one was opened at Wisma Atria, so Michele and I decided we'd give it a look-see.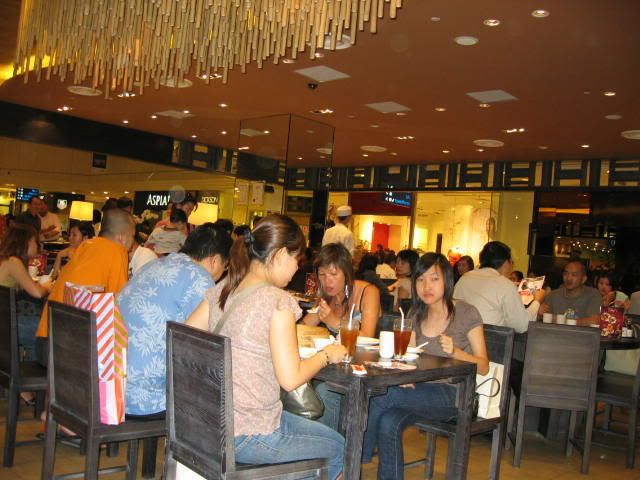 The restaurant is
always
crowded, as you can plainly see, but the Taiwanese, being very efficient, brilliantly give their customers queue numbers and encourage them to pre-order their food. I'm not sure if they accept reservations, but given the high volume of traffic through the restaurant, I would doubt it.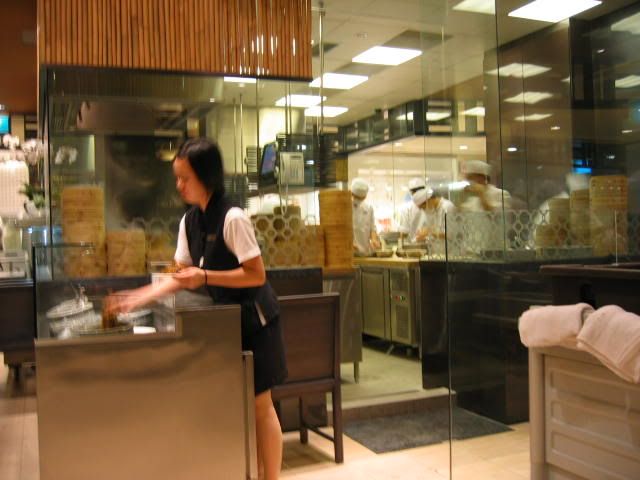 If I recall, all Din Tai Fung outlets practice an open kitchen concept, allowing you to watch the army of artisanal chefs at work steaming dumplings and stretching noodles. Apparently, a hallmark of this Taiwanese chain is that all their xiao long baos are made with 18 folds in their skin, but I neglected to count them.
As we're both very healthy people, we had an order of stir-fried spinach with garlic ($8). This was pretty ordinary, not particularly tasty. Pretty pricey for a plate of vegetables, too.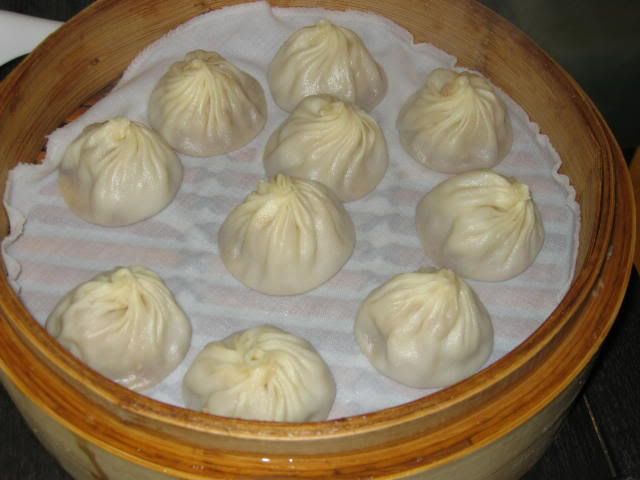 Of course, what everybody comes here for - the xiao long bao. A large basket of 10 costs $8.50 and a small basket of 5 costs $4.80. I can't be entirely sure, but I think the standard of the xiao long bao has gone down somewhat. The dumplings aren't as full and pregnant as I remember them to be, and for some reason they get cold really quickly. Still, it can't be denied that they're very well-made, and that the meat and broth filling are very tasty.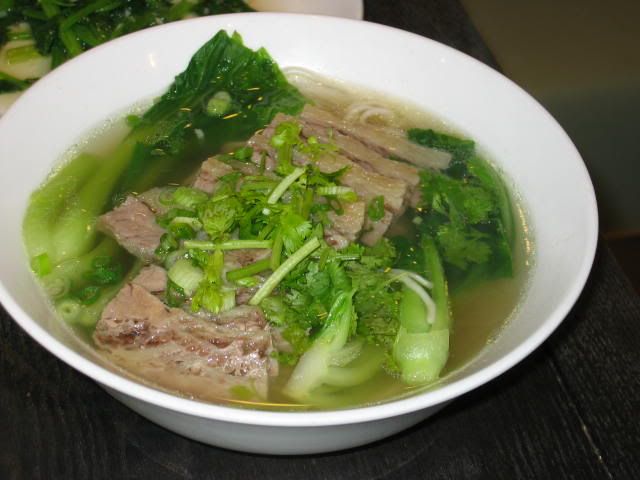 We also had a bowl of clear beef noodles ($10), somewhat resembling Crystal Jade's la mian. The noodles were rather bland, strangely, but I suspect the soup used was chicken-based, as I didn't taste any beef essence in it. The beef pieces looked more like pork than beef, but were fairly yummy and tender.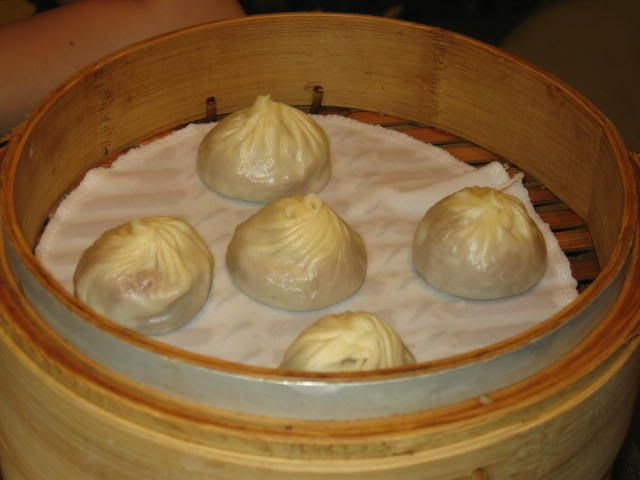 According to Michele, yam is dessert, so we ate these steamed yam dumplings ($4.60) last. They were quite delectably sweet, but would probably have been better had we eaten them hot.
Service here is very chop-chop, as you might expect, given the hectic pace of turnover. Thankfully they're very adequately staffed, so you won't have a situation in which you're looking around like a turkey trying to attract a waiter's attention.
Don't expect a quiet dinner, as you'll be surrounded by fellow diners, but at least there won't be any screaming babies - the speed with which tables are expected to be vacated means this is not a very baby-friendly environment.
Din Tai Fung (Chinese)
Wisma Atria
435 Orchard Road
#02-48/53
Tel: 6732 1383

Location: 4/5
Ambience: 3.5/5
Service: 3/5
Food: 3/5
Overall: Good for a quick but light meal before a movie, but may be too expensive/limited for a truly filling dinner.
Technorati Tags: Reviews, Chinese, Restaurants, Singapore, Din Tai Fung