Review: Crystal Jade La Mian Xiao Long Bao
Writer's block and a lack of access to Blogger in the office has meant that there has been a considerable lack of updates recently. It also means that I have
another
backlog to clear before the inevitable Christmas feasting.
So here I am, reduced to typing this into notepad before copying it into Blogger when I get home for uploading.
Elaine, Tze Yi and I went to Crystal Jade La Mian Xiao Long Bao at Great World City recently to celebrate her birthday, because I had a slight craving for the little soup-filled dumplings. La Mian translates to "pulled noodles", which strikes me as somewhat odd, because aren't all noodles pulled?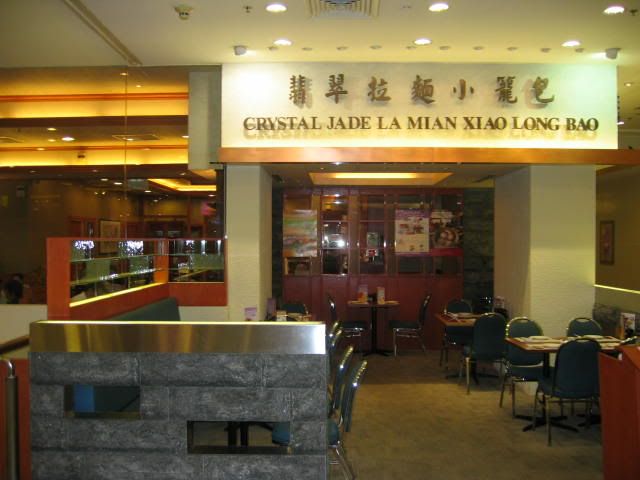 The restaurant is located in Great World City, which would be a great hang out place if it was a little more accessible. As it stands, it's kind of hard to get to without a car, being rather remote from MRT and bus services. The restaurant occupies a quiet corner of the mall, and is a good choice for a little tete-a-tete or a quick meal, as the food arrives with considerable alacrity.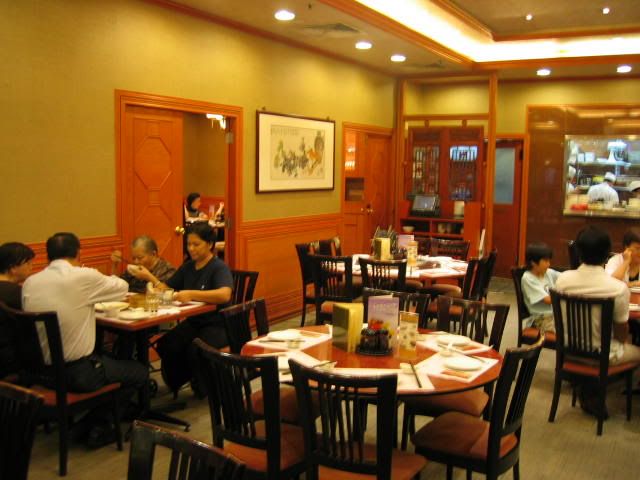 In terms of ambience, Crystal Jade rarely disappoints. The restaurant is very sensibly laid out, with ample room in between tables, there'll be other diners near by, but you won't be dining elbow to elbow. The place is also well-lit, so you won't have to peer at your food to figure out what you're eating.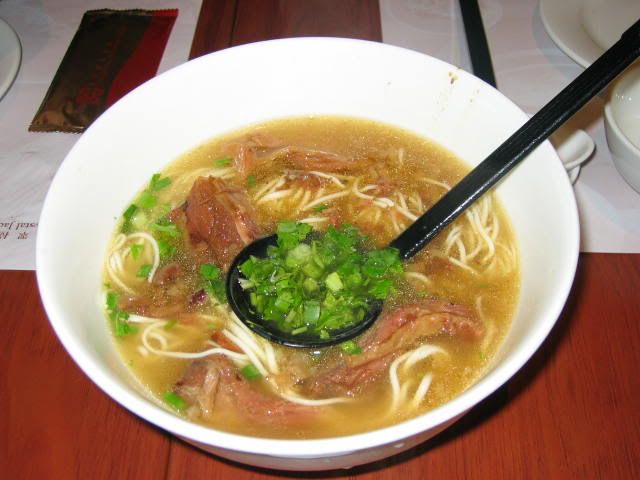 It makes a lot of sense to share food at this restaurant. This way, you get to sample lots of everything without the concomitant obligation of finishing everything you order. Naturally, we took this wise and eminently practical route. Our first bowl of la mian came with braised beef. There aren't many other condiments, apart from a generous ladle of coriander, the beauty of la mian was in the intensely flavoured beef stock. You could almost taste the essence of bovinity in that dish (4/5).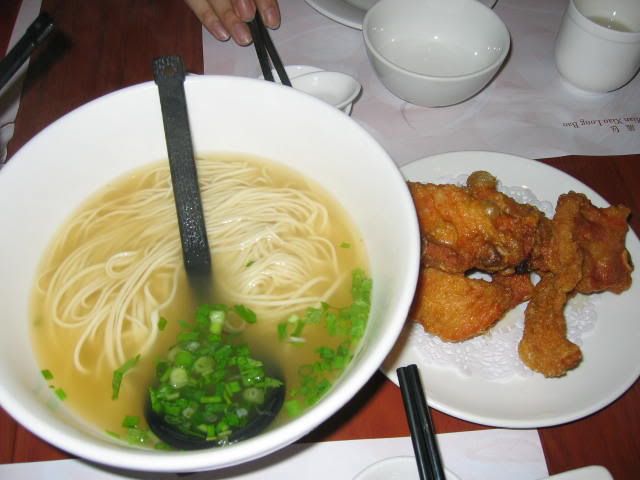 Next we had another order of la mian, this time with fried short ribs. The soup this la mian was served with was a lot clearer and milder, less rich, in order to better savour the pork ribs. While the ribs were delightfully succulent and tender, the noodles were quite ordinary, so all in all a fairly decent dish (3.5/5).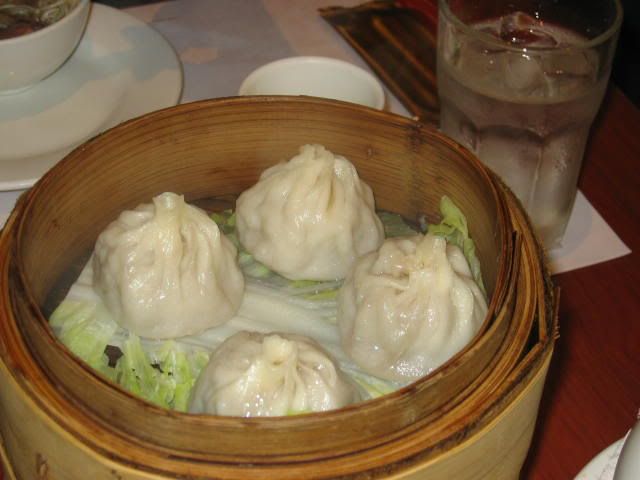 I must admit I was a little disappointed with the xiao long baos that Crystal Jade had to offer. They were very large, which made them difficult to eat in one mouthful, and while they were very generously stuffed with minced meat, I did think that the skins on the dumplings could have been thinner and more delicate. Not that fantastic (3/5).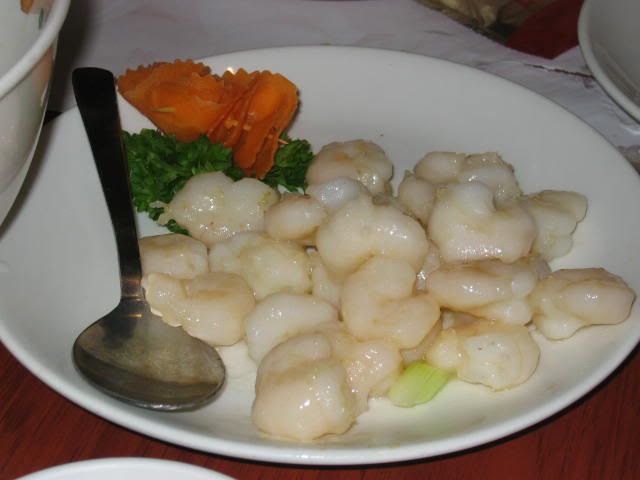 We had an order of shrimp things which I quite enjoyed, despite not being much of a seafood person. These little morsels of crunchiness went very well with the soupy la mian and are surprisingly addictive (4/5).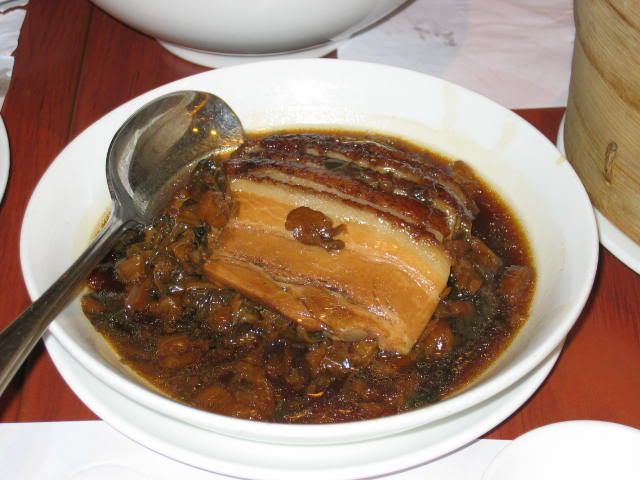 Our last item for the meal was a bowl of braised pork belly and vegetables. Very sinful, so I only ate one slice and let the other two take my share of the calories. Not too bad this (3.5/5), even if the fats go straight to your arteries.
In terms of service, food arrives extremely promptly here, so much so that we had to repeatedly clear space on the table for new items. Waiters and waitresses are quick and efficient, and don't waste any of your time. Prices are fairly reasonable, especially if you share food. Dinner cost us about $60, which works out to about $20 per person, depending on what you order.
Crystal Jade La Mian Xiao Long Bao (Shanghainese)
1 Kim Seng Promenade, #03-30, Great World City
Tel: 6738 5595
Opening Hours: 11am - 10.30pm
Location: 3/5
Ambience: 4/5
Service: 3.5/5
Food: 4/5
Overall: Great for la mian, but not so fantastic for xiao long bao
Technorati Tags: Reviews, Crystal Jade, La Mian Xiao Long Bao, Chinese Food, Singapore