Review: Imperial Treasure
I've been eating a lot of Chinese food lately, it seems. Apparently last Sunday was Grandparents' Day (what on earth is that), so we celebrated with my paternal family at Imperial Treasure Nan Bei, one of Crystal Jade's rivals in Takashimaya.
I quite like how the restaurant is laid out; it's very open, so people walking by doing their Sunday shopping can look right into the dining areas, unlike most Chinese restaurants where there is only a glass pane to allow for a view. While this may seem like a lack of privacy, it does make for very well-ventilated dining, which is very important for me, since I hate claustrophobic spaces.
Comparisons with Crystal Jade invariably arise, and I'll have to say that in terms of service, at least, Imperial Treasure does suffer in comparison. The waitresses tend to be a bit brusque in their dealings with customers, lacking the patience and warmth of their Crystal Jade counterparts.
In terms of food though, Imperial Treasure's standards are pretty first-rate. While not as exquisitely fine as Crystal Jade's, the food is nonetheless very tasty and very well-made. No prices, I'm afraid, since I was not privvy to that information. I expect it's somewhere near Crystal Jade in terms of pricing.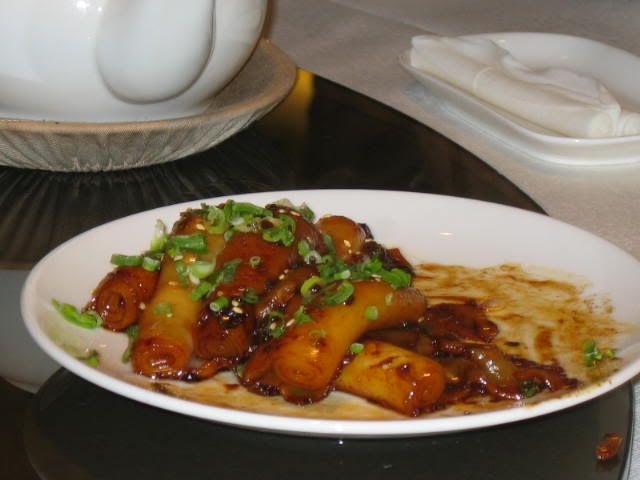 First up was a dish of chee cheong fun, or rice sheet noodles, fried with chives and dark sauce. I didn't think I'd like this, since I don't quite like the starchiness of the rolls, but these were smooth and slipped down the gullet like jellied eels. The sauce offset the blandness of the rice rolls very nicely, too. Good start to the meal (4/5).
Next we had crispy fried whitebait. It's pretty hard to muck up, really, being, in essence, deep fried little fish. That being said, Imperial Treasure's version was just a little oily for my tastes. Still good though (3.5/5), I just wish they'd blotted it a bit more.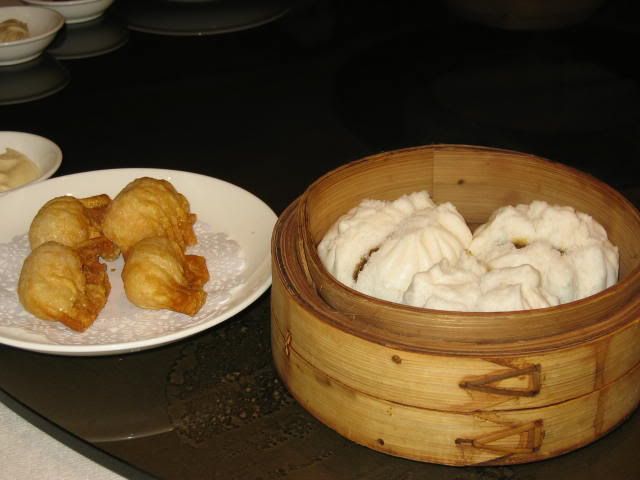 One typical
dim sum
item, and one not. The ubiquitous char siew pao makes its appearance at our table, accompanied by some fried shrimp dumplings. Both were very enjoyable (4/5), especially the fluffy and tasty pao.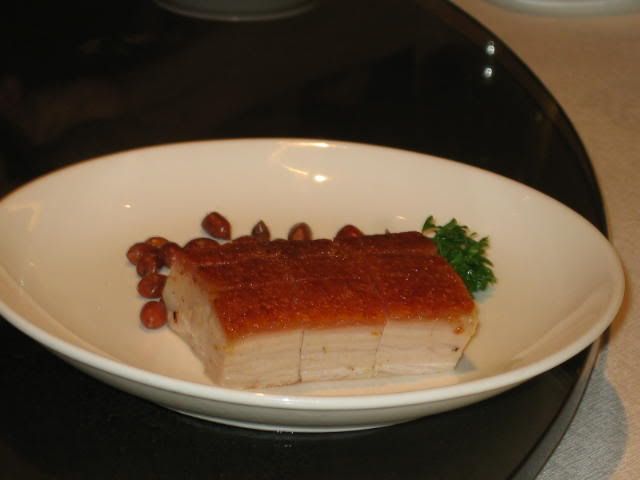 Another veteran of the dim sum tables, we had an order of roast pork. While it was very lean, which is very good for all you cholestrol-conscious types, I did think it was a bit soggy, sort of over-moist. In any event, was just okay for me (3/5).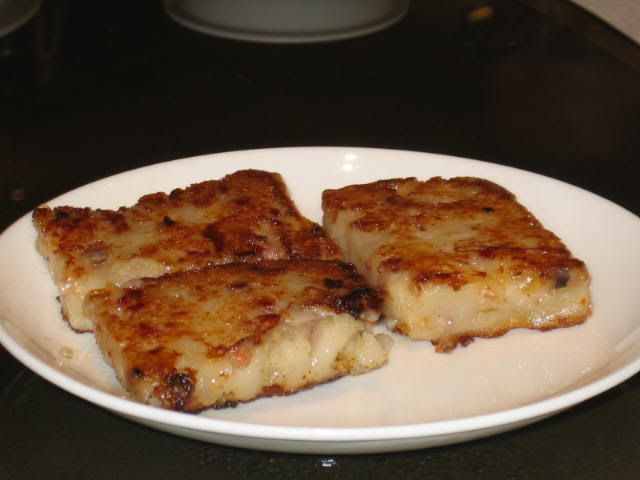 It always amazes me when Chinese restaurants serve the same food we take for granted at hawker centres. Things like roast pork and char siew, for instance. I wonder which it is; that hawker centres serve economical versions of popular haute Chinese cuisine, or that Chinese restaurants elevate humble but well-loved hawker dishes,
ad astra per aspera
, as it were. Anyway, Imperial Treasure's version of carrot cake was very good (4/5), crisp on the outside, soft and chewy on the inside.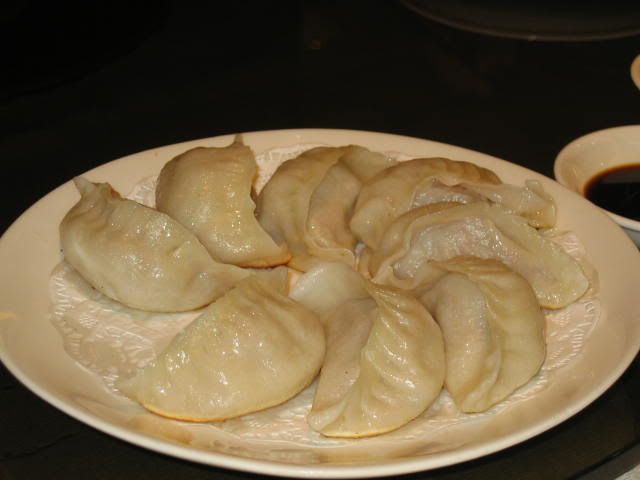 I'm not very good with Chinese food, it must be said, so I've actually forgotten the name of this dish. If anyone could jog my memory I'd be most grateful. It's a bit like xiao long bao, with some hot soup encased by the skin of the dumpling, but there's more filling. I think it was meat and chestnut. In any case, it was yummy (4/5).
[Ed: The fabulous dimsumdolly informs me that they're called guo tie]
We had an order of
siew mai
, which are sort of steamed prawn/minced meat dumpling things, another traditional dim sum item. I think they are always a good way to tell the standard of a restaurant. If a place can't even do the classics properly, then they have no right to serve dim sum at all.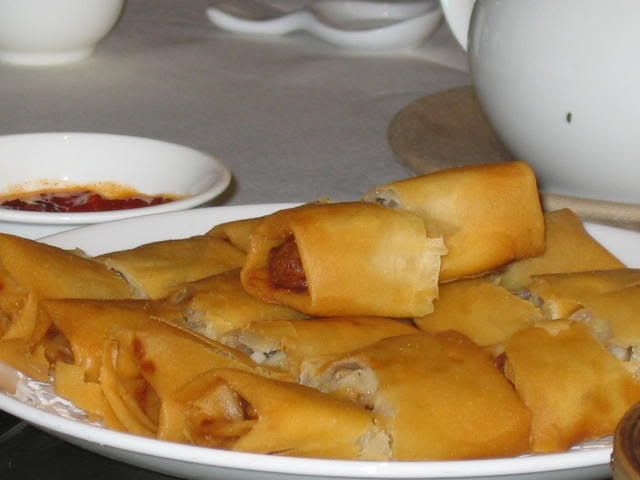 Not something my family usually orders, I wasn't really impressed by the spring rolls (3/5), but my mother thought they were quite good. Probably had something to do with them not being very oily.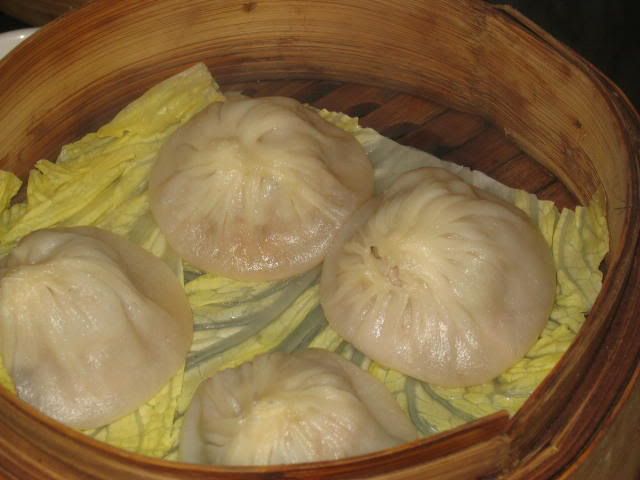 Xiao Long Baos are like the ultimate Chinese comfort food. I've said it before, and I'll say it again; whoever invented them is a genius beyond description. The lovely little dumplings filled with minced pork and hot soup were particularly well done at Imperial Treasure (4.5/5), and it's always a joy to carefully bite into one of the little beauties, having the steaming hot soup fill your mouth as you savour the deliciously succulent mince.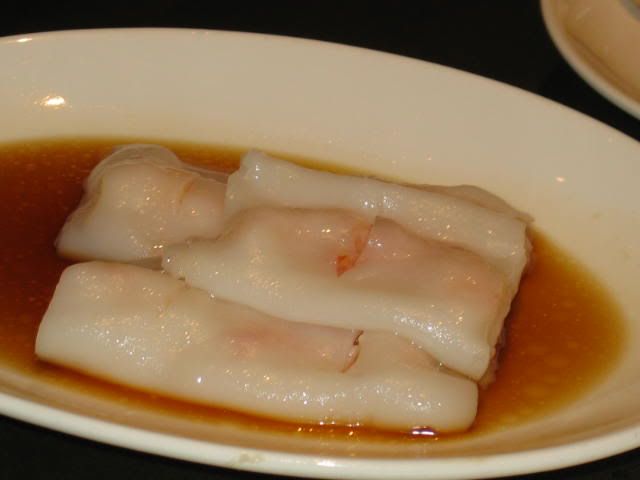 I think the hallmarks of good
fan gun
are wrappers of rice flour that are as thin as possible, plump prawns, and a very light soya sauce; so light that it's more sweet than salty. Imperial Treasure's
fan gun
is very good (4/5), another example of a dish whose quality is beyond reproach.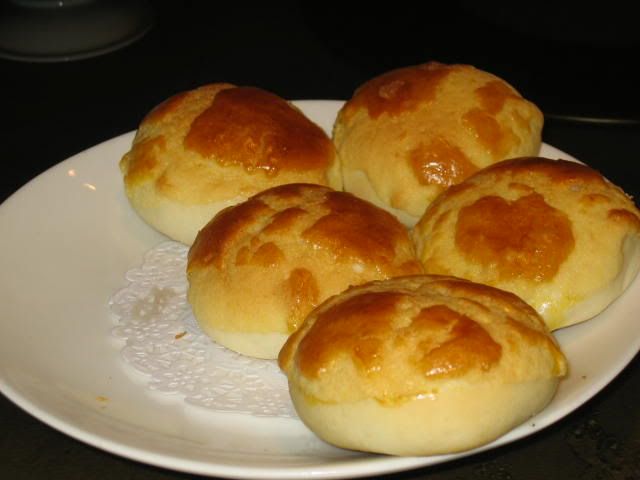 The next dish was kind of strange. It was nothing I'd ever eaten before, so I was quite curious as to what it was. It was some sort of glazed bun, flaky on the outside, and containing some sort of stuffing inside. When I bit into one, I discovered it was remarkably similar to a char siew sou, and even tasted like one, so much so, that I thought Imperial Treasure served some sort of new-fangled round char siew sou. Turns out it was a completely different form of baked pastry stuffed with a similar meat stuffing. Pretty good though (3.5/5).
[Ed: Again, the kindly dimsumdolly informs me that these are char siew polo buns]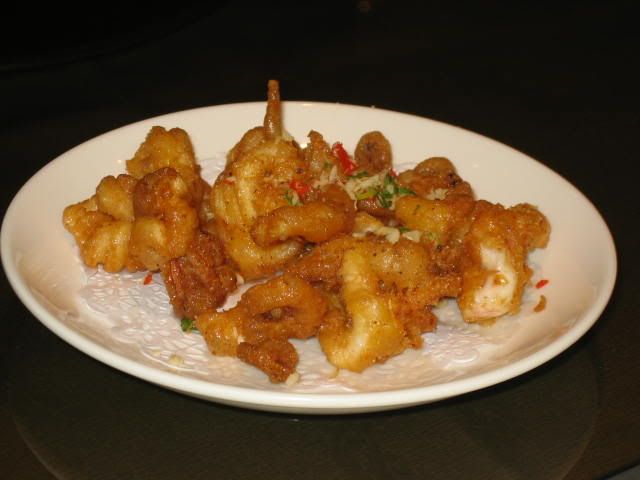 We had an order of deep-fried squid, which I found rather oily, and not exactly that memorable either (2.5/5).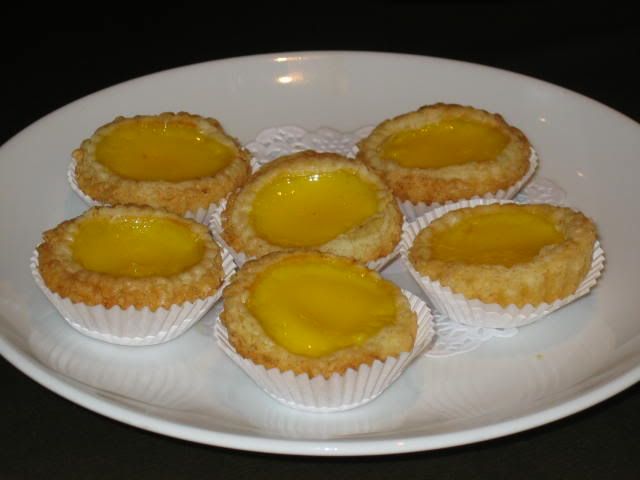 The meal rounded off with the obligatory egg tarts, classic egg custards in flaky pastry shells. It must be admitted that I didn't quite like these (2/5), as they tasted a bit strange. My mother suggested that they might have used egg powder rather than real egg, but all I know is that they didn't taste very custardy to me.
Imperial Treasure Nan Bei Restaurant (Cantonese, dim sum)
391 Orchard Road
#05-12/13 Ngee Ann City
Tel: 6738 1238
Location: 5/5
Ambience: 4/5
Service: 3/5
Food: 4/5
Overall: Standards are very high, and a strong contender to the throne of fine Chinese dining in Singapore
.
Technorati Tags: Reviews, Chinese Food, Imperial Treasure