I love the weekends; they're such a perfect excuse for stuffing yourself like a turkey. Assuming turkeys voluntarily stuffed themselves, of course.
So I celebrated a birthday dinner on Saturday at
Sebastien's
, which turned out to be an excellent experience, in no small part due to the good company and the munificence of my gracious host, who spared no expense with food and wine. I thank you most gratefully indeed.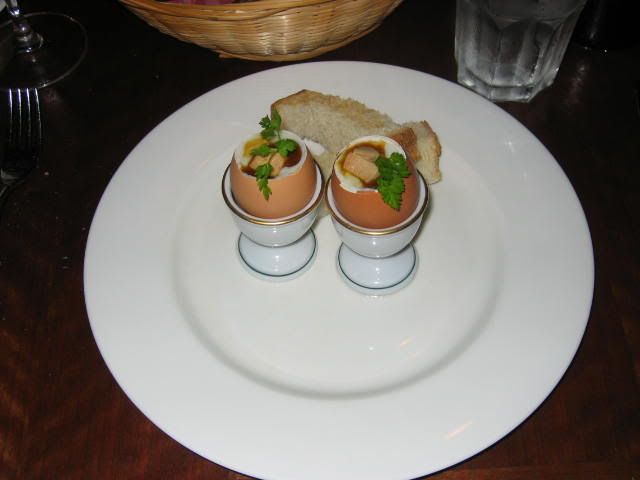 An unique appetiser was arranged for just this occasion, soft-boiled eggs re-imagined as haute cuisine, with the addition of sublime cubes of foie gras, aromatic black truffle oil and grains of sea salt to provide just the right briny flavour. Not on the regular menu, it was quite a treat.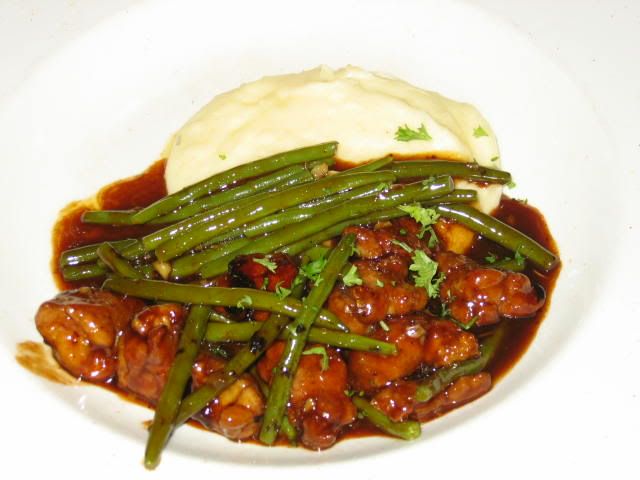 I had originally intended to have the
blanquette de veau
, but when I saw what was being offered as a Special for the day, I changed my mind instantly. After my disappointing experience with
sweetbreads
in
France
, I was desperate to try some Singaporean offerings, especially after
Chubby Hubby's
mouth-watering
recipe
. When it arrived, I was less than impressed with the string beans that were served as an accompaniment, along with the ubiquitous (but delicious) mashed potatoes, I noted with interest that the sweetbreads were much smaller than the ones I had in France, and came served with a rich, dark sauce. I was ecstatic to find that Sebastien's sweetbreads (er, not
his
, of course) were
exactly
as I had remembered them in London; small morsels that melt in your mouth with the effortlessness of fine chocolate. The sauce too, was lush, almost velvety, a veal and red wine reduction, sweet and piquant by the addition of garlic. I cannot recomment this dish ($26) enough to similarly adventurous souls; I only hope it makes it to Sebastien's regular menu (5/5).
Dessert was a safe warm chocolate cake ($10), which was competent, if a little in need of more icing sugar. My only complaint was that it wasn't quite hot enough, which made it almost room-temperature when eaten with the vanilla ice cream (4/5).
Yes, I really do like weekends.
Technorati Tags: Reviews, Birthday Dinners, Sebastien's