Review: Ming Kee Live Seafood
[Ed: My father has been greatly encouraged by the positive feedback he's been receiving on his contributions, so he's very kindly chipped in with another review for the benefit of all you hungry readers out there.]
While the husbands were away in China on a golfing holiday, the wives decided that they were not going to be golf widows and planned a night out on their own.
The first suggestion was to head for the new in-place and eat at one of the restaurants in Rochester Park. Howevever, another lady did not fancy the hip place where the food is so-so and teething problems still exist.
She made a suggestion and the rest were not disappointed. In fact, they were so pleased with the food and service that they insisted the husbands bring them again when they returned from China.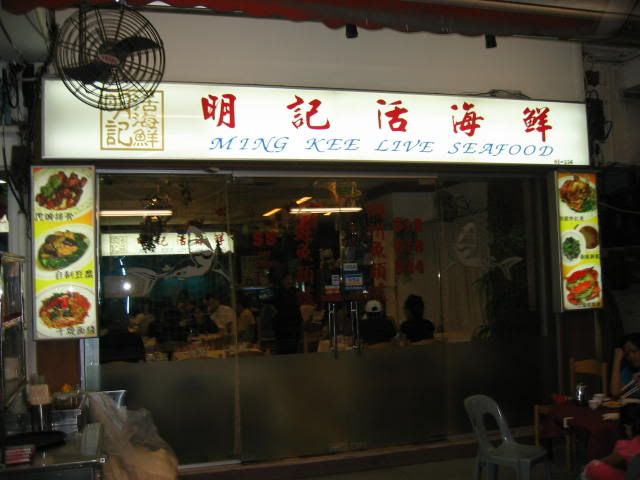 The place was Ming Kee Live Seafood restaurant housed in 2 coffee shop-styled shops along busy Macpheson Road. Parking was a breeze as there were 2 HDB car parks at the back of the restaurant. The short walk was very welcome by all after the sumptious dinner.
We were given a table that resembled someone's dining table at home with well-padded cushions on the chairs, perhaps a leftover that was not accepted by a customer in one of the many furniture shops in the same row.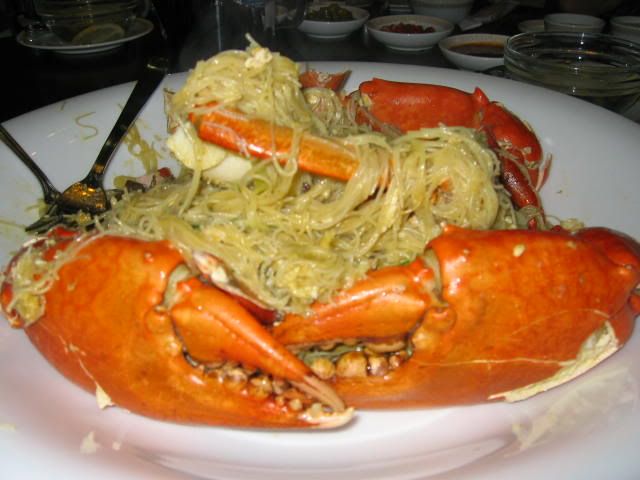 The first dish was noodles with crabs. 2 gigantic crabs topped a bed of rice noodles[mee fen], in fact, there was more crab meat than noodles. The huge pincers needed a bit more cracking and don't use your teeth or you will have to make a dental appointment the next day. The meat was thick, firm and succulent. By the time the dish is finished one will be half full. If you do visit , this is a
must have
.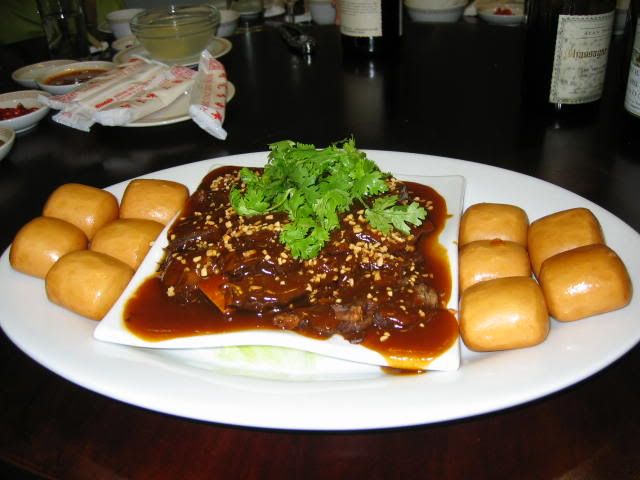 Mongolian beef with buns was the next dish. The buns were good but the dish is not something one should order, as it was not that tender, although the sauce went well with the buns.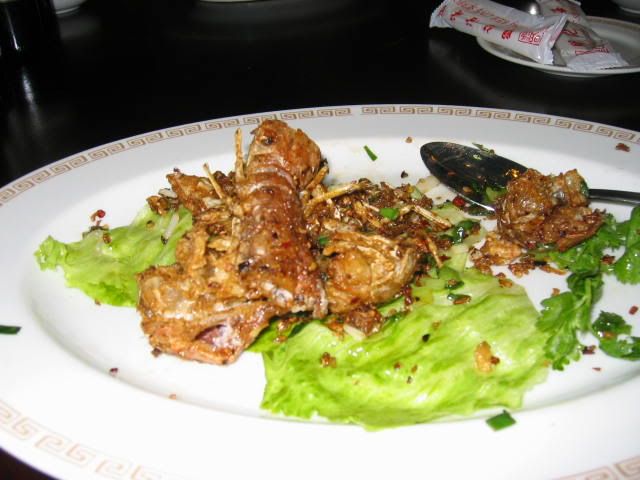 We had
lai lew har
or praying mantis crustacean deep-fried with pepper and too much salt. As a result of this the meat was hard, rubbery and saltish. Another dish to pass if you decide to go to this place.
A somewhat too-exotic live baby Octopus cooked with plenty of garlic allowed one to take revenge on Octopusi if you have seen the movie with the giant Octopus. It is all right if you like adventure, but if I were so inclined I would climb Mt. Kinabalu. With food I would rather stay safe.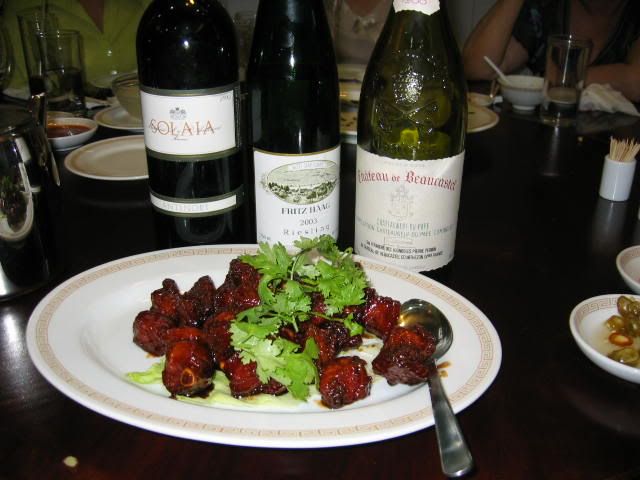 Pork spare ribs have been marinated with coffee and all sorts of things. But Stout? Guiness would be thrilled that their sales are up because you don't drink it anymore. You eat that Stout beer! I wouldn't write home to mum about this [pork ribs cooked in Stout] except to say that the leftover Stout can be used for cooking!
[Ed: I've had it - it's not that bad, really, interesting taste. Give the Stout ribs (haha, get it?) a try.]
This next offering costs one third of the total bill so avoid this if you want a cheapish bill and don't want to blow all of your progress package handout from the Government.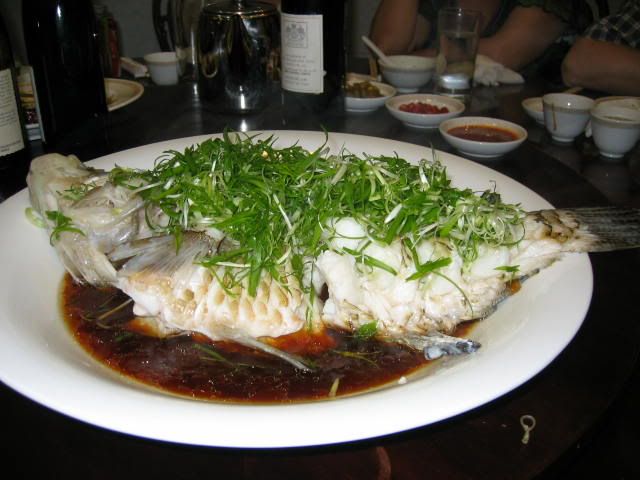 A 2 kg
soh mei
fish which is something you can't find easily as these big coral fishes are not easy to come by.
However, a diver friend advised that it is not a good idea to eat this fish as it is caught by cyanide poisoning and even though the gills are flushed there are remnants of cyanide in the fish. As they are deep-sea coral fish this is the only way to catch them, unless they are shot with a spear gun by divers.
A very good test of any Chinese restaurant is how well they steam fish. This was a 10 as the meat was cooked just right and was not rubbery.
[Ed: Tried their steamed tiger garoupa too, but that was a bit over-steamed]
Despite the fact that everyone was rather full it was polished off, maybe because it was so good or perhaps because it was so expensive and rare.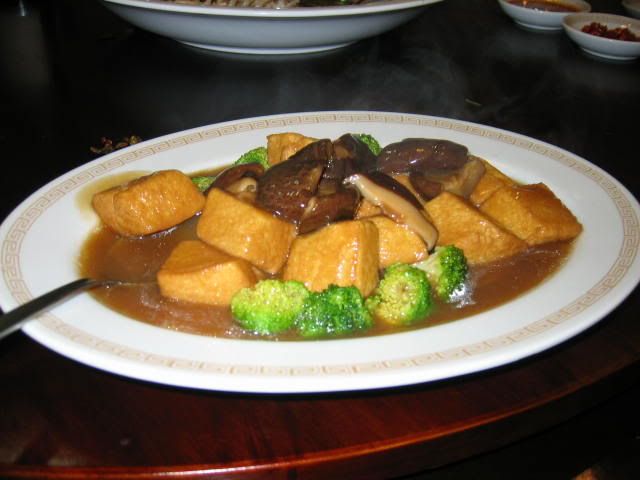 To round off the meal we had beancurd with mushroom and broccoli - fairly run of the mill stuff after the
soh mei
fish.
The meal was over and we still had some cold Reisling white wine left. Incidentally, this is a great white to have with Chinese food, especially if you order seafood. To our pleasant surprise, the chef and owner Ivan whipped out a gratis fruit and prawn salad topped with mayonnaise. "Goes well with your white wine," he said. Good PR stuff. This also gave him the chance to come out from the kitchen and chat with us.
Total bill for the experience...$600+ for 10 people. As mentioned earlier it was the fish that upped the bill, so go for the deep-fried
soon hock
if you want a smaller hole in your pocket. Plus points are the easy and free parking on sundays, air-conditioned comfort and good food in the heartlands.
[Ed: Minus points include actually getting to Macpherson if you don't live in the area, though there are a reasonable number of buses serving that route. Ming Kee can accommodate 50 - 70 diners, in air-conditioned and open-air areas. The toilets here are somewhat primitive, so take note if little things like hygiene bother you.]Ming Kee Live Seafood (casual)
556 Macpherson Road
Tel: 6747 4075
Technorati Tags: Reviews, Casual, Singapore, Casual, Ming Kee Live Seafood