Review: Restaurant Ember
We went to Ember for sister's birthday dinner. Ember is a fairly new restaurant that has enjoyed a fair amount of success, due to the fact that the food is good and the prices are reasonable. Cuisine here is neither high-brow nor quotidian, meaning while you won't find a lot of truffle-infused this and that, you're not likely to get spaghetti bolognese either.
Ember is actually the official restaurant of Hotel 1929, one of the many boutique hotels that are springing up all over the place. As a result, Ember benefits from the chic, if somewhat retro decor the hotel employs.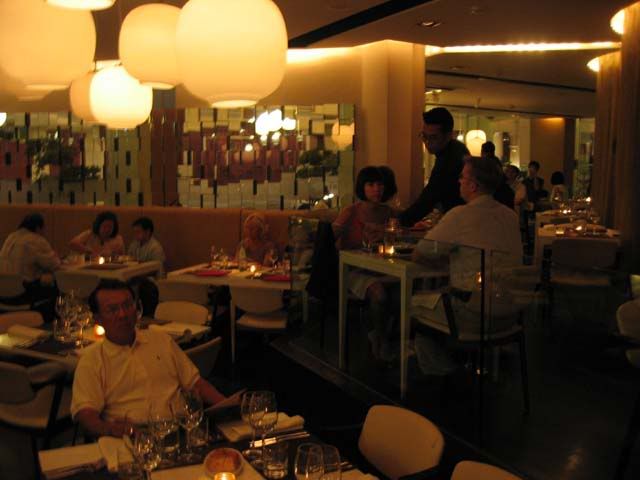 Even Amelie eats here
The food here won't cost you an arm and a leg, so it's very popular with the younger crowd. I hear this is the venue of choice for many hen parties. Thankfully there were none in session at the time.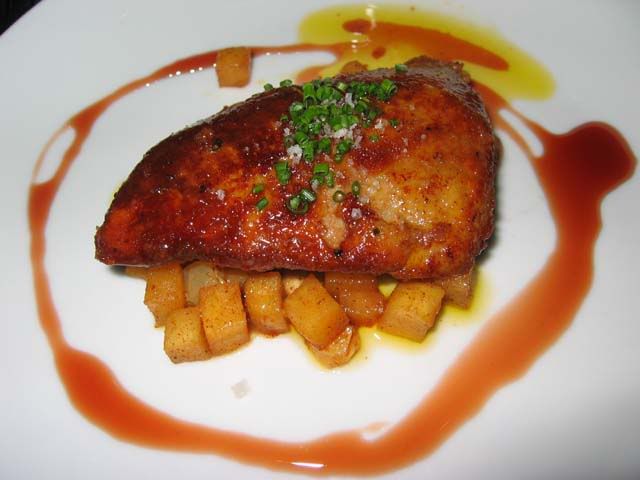 The problem with seeing foie gras on the menu is that then you're obliged to order it, just to see if it's any good. They give you a fair portion of pan-fried foie gras for $16, served along with caramelised apple and clove, sauced with a port and raspberry glaze. Some coarse sea salt has been sprinkled over the top, which marred my appreciation of it somewhat, the saltiness refusing to be banished by the tart sweetness of the apples and port. I was not really blown away by this effort (3.5/5), which is rare for me while eating liver, but for $16 it's pretty good value for money.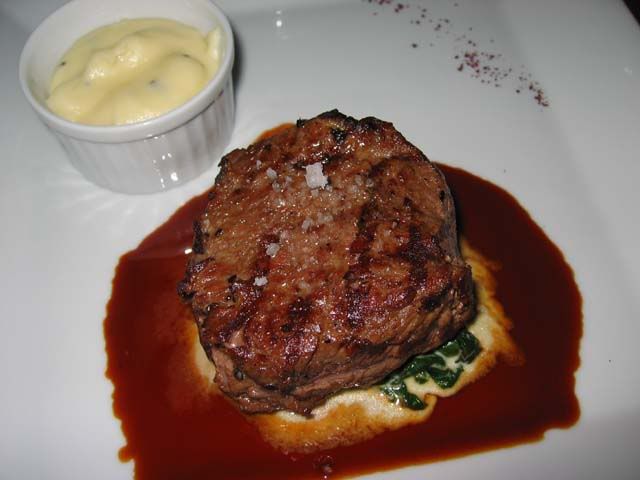 Though I was tempted to order the lamb cutlets ($30), which I remember as being very good, I decided to go with the char-grilled beef tenderloin with creamed spinach and truffle mash, in a port and madeira reduction ($34). As you can see, this came with some salt too, but since salt complements meat, I had no real problems with this. The meat itself revealed just a shade of dryness, but luckily there was sufficient sauce provided to obscure this fact. The mashed potatoes too could have used a bit more texture, being rather too creamy. But still, decently appetising (4/5).
I have it on good authority that the seafood Ember serves is excellent. As it was, everyone who ordered fish at the table had nothing but praise. The Chilean Sea Bass with ginger and soy broth, in particular, is supposed to be superb. A pity I'm not a fins and tails sort of person myself.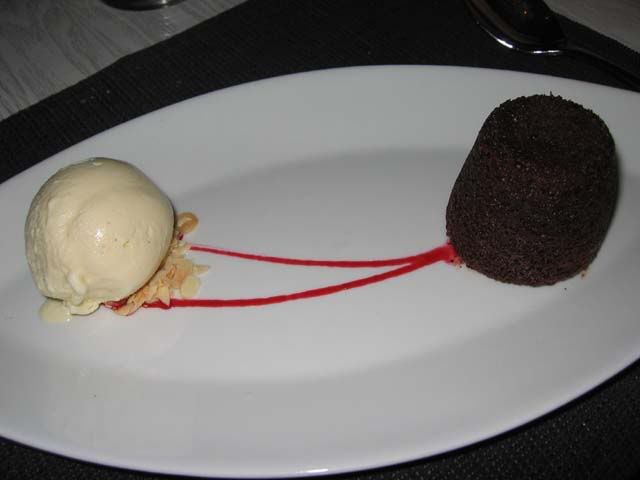 One of the things, I find, at being able to cook, is that you are always compelled to order something you know you can do, just to see if the restaurant does it better. Which is why I had to order the Warm Valrhona Chocolate Cake with vanilla bean ice cream ($11). I was actually contemplating the Trio of Creme Brulee, but the one of flavours was something like black sesame, which I thought I could do without.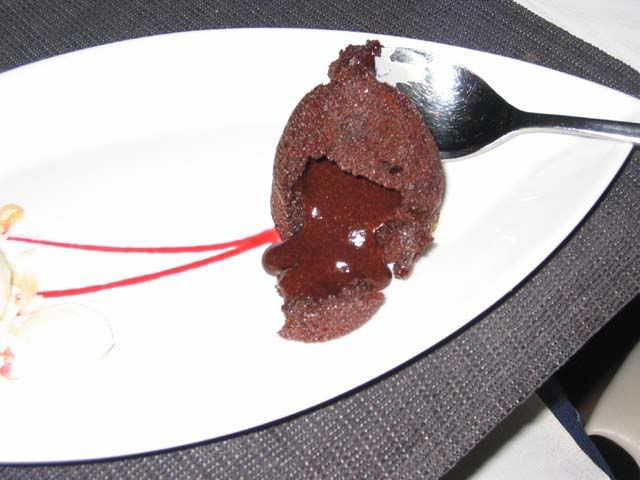 Theirs
was
better (4.5/5), but it was a petite thing, and compromised by its lukewarm temperature, though that might have had something to do with my photo-taking. I hated the almond flakes their ice cream came with though, and as a dessert, it was somewhat spartan looking.
Ember is located in Kheong Saik Road, which is totally unnavigable to me without a taxi. Parking could be a problem, though with a bit of patience a surprising number of lots free themselves up. The neighbourhood leaves much to be desired though, there are a lot of dodgy looking lounges and what I suspect is a garbage dump nearby, because it certainly smelled like it. Apparently though, the restaurant is only a few minutes away from Exit H of the Outram Park MRT station.
Since the restaurant is owner-run, the standard of service is scrupulously higher than most other eateries. They also get by with fewer waiters than usual, which just goes to show that the more waiters there are, the more you get ignored. The rate at which the food arrived was disappointly slow though, there were interminable lags between courses that could hardly be sustained by table talk.
Restaurant Ember (modern European)
Hotel 1929
50 Keong Saik Road
Tel: 6347 1928
Email
Location: 1.5/5 (4/5 if you're taking the MRT, according to Jireh)
Service: 3.5/5 (-0.5 for slow service)
Ambience: 4.5/5
Food: 4/5
Overall: Worth the trip
Technorati Tags: Restaurant Reviews, Modern European Food, Restaurant Ember, Singapore