Review: Yhingthai Palace
Had dinner at yet another Thai place (you might have guessed that I'm not really a fan) - this time at this restaurant in Purvis Street, Yhingthai Palace. Don't ask me how to pronounce that.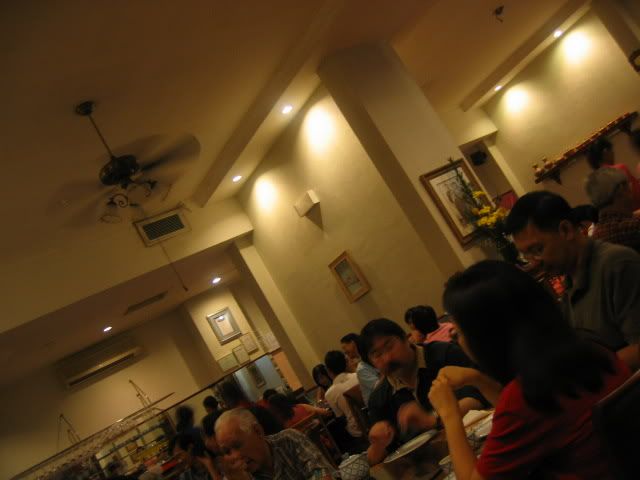 As you can see, one could easily mistake Yhingthai for any other middle-range Chinese restaurant. The only difference being the preponderance of Thai-looking paintings and strange Balinese looking woodwork.
It was pretty packed, and kind of hot. It is air-conditioned, but the number of people and lack of freon gas made it necessary to have a few fans installed as well. The heat became more bearable as the meal progressed.
We ordered the set menu for 6 people, which costs (I think) $218. Not a bargain, but you do get your money's worth. Unfortunately you won't be able to see all the food because my camera started running out of batteries - stupid Ixus doesn't have a battery metre - but I try my best.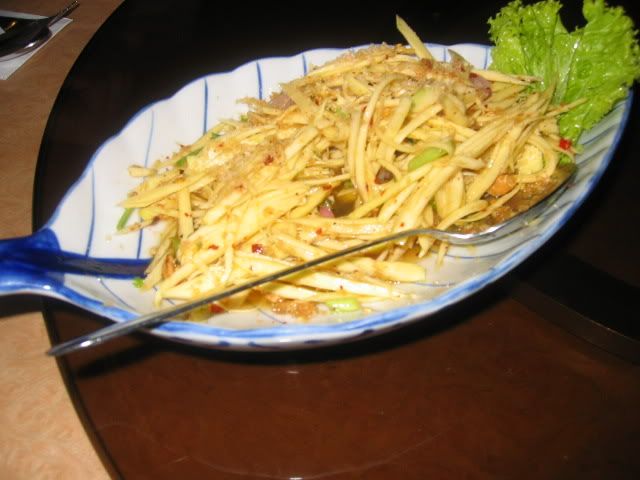 First thing we had was the Thai Mango Salad. Yhingthai doesn't believe in holding back its spices and chillis, so this one was a real kicker. Not a great fan of chilli, so this didn't really work for me, but if you can take it I guess it's pretty nice.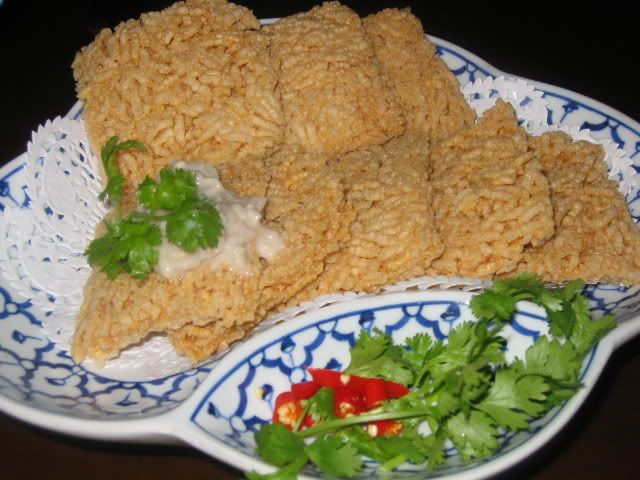 Next we had some Rice Crispies. These came with a sort of gooey coconut dip that flavoured the otherwise bland crisps. I quite liked these; they were simple, crunchy, tasty, and most importantly, non-spicy.
The reprieve didn't last long, since they soon gave us our Tom Yum Soup (picture not available). Apparently this was just the mild, clear version, not the extra flammable chilli sauce version. Still pretty damned spicy though. Couldn't even manage three spoonfuls. Spice-disinclined diners can change the order to fish maw soup though, which is a bit like sharks' fin with more fish sauce and chunks of gelatinous fish maw, that can take a bit of getting used to.
What I really enjoyed, though, were the chicken wings (picture, sadly, unavailable). Yhingthai deviously stuffs them with some spring onion and mushroom and fries them, which makes them puffy, juicy and sweet.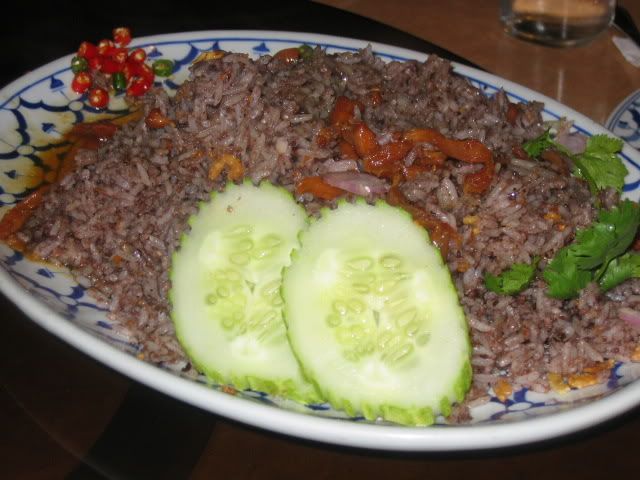 The chicken wings went very well with the olive rice. Not something you see everyday, but it was surprisingly good. Unique, but without an overpowering taste of olives, as my sister remarked.
Last two dishes were a fried fish (which I didn't try) and some vegetables, which were rather unremarkable - hardly different from anything you'd find in any chinese restaurant.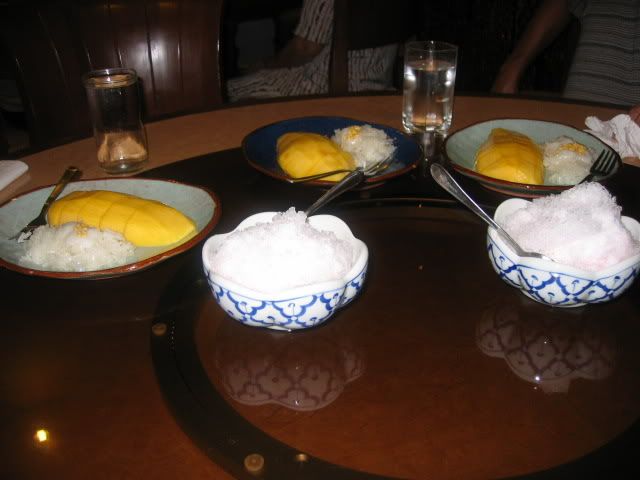 Dessert was, of course, mango sticky rice, as well as two bowls of what I can only remember as Thai Ice Kachang. The mangoes were really sweet and not sappy, but the sticky rice could have done with a bit more coconut milk/cream dressing. The ice kachang was unspectacular, but not as heavy as the sticky rice. Good if you don't really want to feel bloated after dinner.
Yhingthai is located in Purvis Street, which is just round the block from Raffles Hotel. Not really out of the way, but not exactly easy-access either. Parking can be a bit of a problem too; apparently it's best to park at Bras Basah Complex.
The service was nothing to rave about; I suppose you could call it functional. Considering that the place was bursting at the seams, I guess you can't really blame them.
Atmosphere is boisterous, but not so loud that you can't hear yourself think. The restaurant is flanked by kopitiams and roadside eateries, but also by the fairly swanky Garibaldi (whose review will be posted. Eventually.) Can't really decide what that does for ambience. The restaurant itself is semi-casual; they certainly won't make a fuss about dress codes, but it isn't really the sort of place you'd come for lunch on a lazy afternoon either.
Yhingthai Palace (semi-casual, restaurant, Thai)
36 Purvis Street #01-04
Tel: 6337 1161 / 6337 9429
11.30am-2.00pm, 6.00pm-10.00pm
Location: 3/5
Ambience: 3/5
Service: 2.5/5
Food: 3.5/5
Overall: Go if you like Thai food, and prepare to eat a lot
Technorati Tags: Restaurant Reviews, Thai Food, Yhingthai Palace, Singapore