Review: Banoo
Have you RSVPed for the floggers' dinner yet?
Banoo is without a doubt one of the more exotic places I've dined in recently. Middle Eastern eateries are in the main few and far between, but a full-blown Persian restaurant is quite possibly the rarest of all.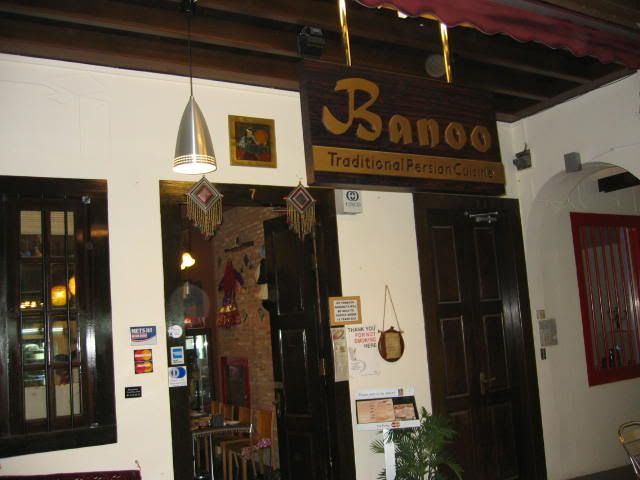 Located in the same row of shophouses as Papi and The Patissier, Banoo is somewhat more homely than the latter two. In fact, I'd never known of its existence before that day.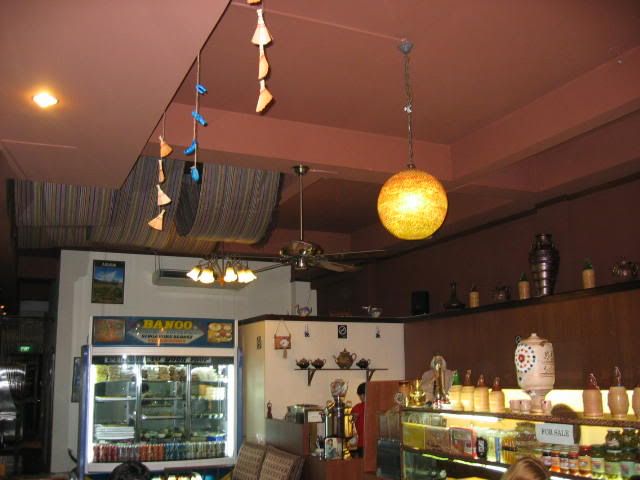 Its small interior accomodates perhaps up to 30 diners, and most of the space is taken up by the bar/counter as well as a big glass case that hides the kitchen and serves as a drinks storage area.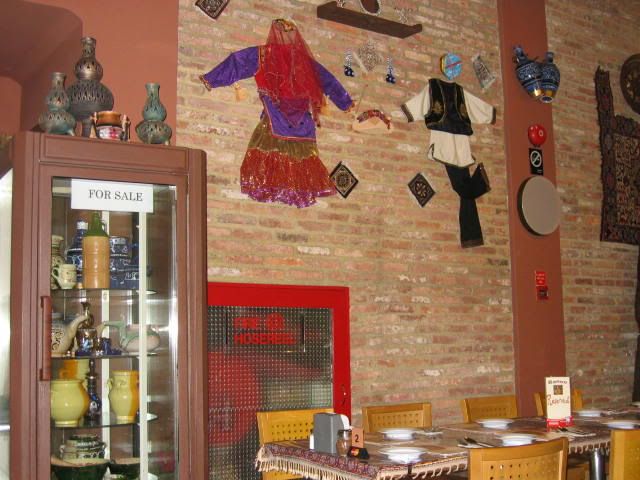 To my non-Iranian eye, Banoo seems generously decorated with many Persian craft items, from hookah pipes (which may actually be usable rather than for sale) to ceramic bowls and teapots.
I arrived rather late, so I wasn't able to sample some of the interesting Iranian drinks the others had ordered. I did manage to try some of their tea, which could just as easily have been Lebanese as Persian; I'd have no way of telling. It seemed moderately spiced, rather more piquant than the English and Chinese teas we're used to.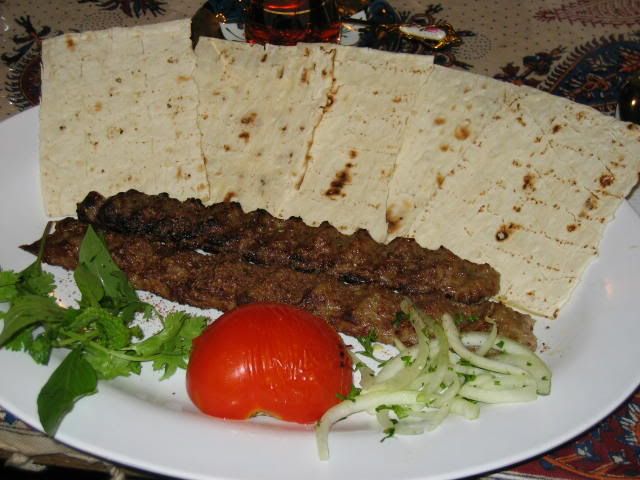 I opted for a Kebab Koobideh ($15), which is supposed to be the house special. Koobideh sounds like a rude word, but that's just me. It turned out to be a lamb kebab, served with some "Iranian bread" (rice would have been a better option), a tomato, onions and a garnish of parsley and kaffir lime leaves.
While the kebab itself was quite tender and spiced with sumac for a lovely aroma, I was very disappointed with the bread, which was thin, flat and tasteless. It was like eating strips of doughy paper.
Banoo serves lots of other Middle-Eastern food, but I wasn't feeling that adventurous or hungry.
Location's not great, as there's no convenient train or parking, especially on weekends. Service is decent; strangely there's a young Chinese waitress, which is odd considering I would have thought the restaurant would prefer Middle-Eastern servers.
Banoo (Iranian)
7 Mohammed Sultan Road
Tel: 6235 7989

Location: 2/5
Ambience: 3/5
Service: 3/5
Food: 3/5
Overall: Certainly ranks high on novelty, good if you're feeling like an explorer
Technorati Tags: Reviews, Restaurants, Iranian, Banoo